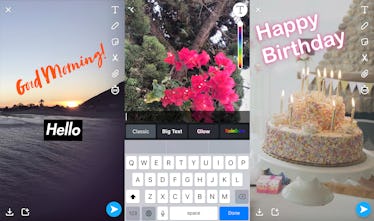 You Can Finally Change Your Font On Snapchat & The New Styles Are So Much Fun
Snapchat
While Snapchat (fortunately) stands by us to capture every FOMO-inducing vacation and hilarious moment, the act of actually capturing the photo or video is honestly just half of the fun. Taking time to create the perfect caption — or to find the raddest Geofilters and Face Filters — truly makes the Snapchatting experience worthwhile. But in order to add some serious flair to each and every one of your vids or photos, Snapchat's new caption styles will finally enable you to add a super cool touch to all of your creations.
Dreams actually do come true, because this variety of new and improved caption styles will officially be rolling out to Snapchatters on iOS and Android on Feb. 8, according to a press release. After years of using the same, tired caption font, Snapchat users will finally be able to take each one of their Snapchats to the next level by finally being able to pick out the perfect font for each of their captions. And, the best part is that users can choose more than one font for each Snap. No limited decision-making is required, and that's really all I ask for in life.
Per the release, the available caption styles currently include Brush, Italic, Glow, Gradient, Rainbow, Fancy, Old English, and more. My excitement level is comparable to when I could pick out Word Art to headline school projects and birthday cards, like, 17 years ago. It's kind of the same idea, and I'm totally loving it.
Once you've tested out literally every caption style available, users will now also be able to create personalized Face Lenses for their own events and celebrations, which will also be available, starting on Feb. 8. Per the release, there will be over 150 different templates available to create your own customizable filter, and each one can be personalized with original text.
Creating a custom Lens is surprisingly easy, even for someone as technologically unfriendly as myself. Users can create their own Lenses on a desktop by navigating to the "create" section of Snapchat's website. Or, via iOS, users can go to Snapchat "Settings" and then find "Filters and Lenses." Users will then be given a variety of sweet pre-made face Lens template options to choose from, and they'll be prompted to add the name of the event and to choose the style.
Adding the time and location of the event makes each filter extra personal, so Snapchat's release recommends users to be as detailed as possible. And depending on how big the event will be, each filter can cover anywhere from a teeny tiny event, to like, a few city blocks. It's pretty legit, in all honesty.
Snapchat also recommends buying your filter three hours prior to the bash, to ensure that the Lens runs on time. Cost can totally depend on location, size, and the amount of time you want your lens to run, but prices start around $9.99.
Instagram also recently made a similar change to their stories, allowing users to select their choice of caption fonts. The new Instagram feature, called Type mode, can be navigated by opening your camera through Instagram, and finding Type mode, which is an option right below the record button. After selecting Type mode, users can write whatever they want, using a variety of text options. There are currently four different font types with varying tones. And, like the Snapchat caption styles, each of them add a super personal flair to each video and photo.
Check out the entire Gen Why series and other videos on Facebook and the Bustle app across Apple TV, Roku, and Amazon Fire TV.