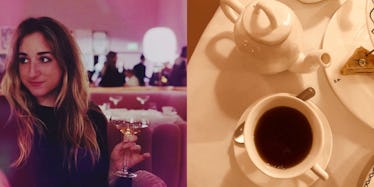 This Millennial Pink Cafe Has A Champagne Afternoon Tea Special & You'll Never Want To Leave
Amanda Fama
Millennial pink is my favorite color, and I don't care who knows it. If you don't love the subtle hue as much as I do, then maybe you haven't given it the chance it deserves. Millennial pink is the perfect color for everything from wardrobe to walls, and it's extremely Insta-worthy. If you need some millennial pink in your life (and on your grid), take a trip to Sketch in London. It's a millennial pink teahouse that'll make your Instagram page look like a pastel paradise.
From the moment I walked into Sketch, I was overwhelmed by the hues of pink that were splashed on the walls and sprinkled across the dining room. It felt like I was literally wearing rose-colored glasses in a room that boasted glistening rosé glasses and towers of pink pastries. From the moment I sat down in my chair (which was also millennial pink), I felt the need to take my phone out and take a few photos of the cotton candy world that engulfed me. Yes, I did it for the 'Gram — and no, I'm not ashamed. It'd be a sin not to post photos from Sketch after an afternoon visit.
See? I told you. However, the pink decor inside the Gallery is meant to be more than just an Instagram aesthetic. According to Sketch's website, India Mahdavi, the woman who remodeled the Gallery's interior, said "For me, pink is more than a colour, it's a mood — Pink has become my flag — a way to express strength and fragility in one colour and in one space." Next time you have doubts about millennial pink, remember Mahdavi's insight: It's not just a color, "it's a mood."
By now, you're probably ready to book your trip to the UK so you can visit Sketch and bombard your followers with pink pics. But before you go, you should probably know exactly what Sketch is (aside from a blush-colored IG dreamland). In addition to its Insta-worthy aesthetic, Sketch is known for its extensive tea collection. As someone who grew up drinking a limited assortment of Lipton teas, I was totally overwhelmed by all the choices on the menu.
I visited the teahouse with American Express Travel and so was able to partake in Sketch's Champagne Afternoon Tea special, which costs about £72 per person (about $103 American dollars). The special included rose-colored champagne, an assortment of delicious pastries, and, of course, tea. I chose from a never-ending list of teabags that included dozens of different flavors (some of which I didn't even know existed). Of course, I played it safe and got a vanilla-flavored tea, and it was the best cup I've ever tasted.
If you're not ready to spend $100, you can always opt for Sketch's Classic Afternoon Tea. It's basically just the Champagne Afternoon Tea, but without the champagne. The classic special costs £58 (about $83 American dollars), and comes with your choice of teas, assorted finger sandwiches, scones, and dessert.
Let's be real, though: $83 is a lot of money to spend on pastries and tea. If you're not looking for a package deal at Sketch, you can always opt for the Gallery à la Carte menu. While doing so, you can choose from starters beginning at £15 (about $21 American dollars), or main courses beginning at £19 (about $26 American dollars). TBH, everything on the Gallery à la Carte menu sounds delicious — so eat up.
Of course, that's not where the food and drinks end. Sketch has four more rooms at its London location that offer different eats and atmospheres, and you'll like them just as much as the Gallery. Check out the Lecture Room, which is a Michelin star dining room that offers à la Carte and Tasting Menus you're bound to enjoy. If that's not your style, stop in the Parlour, which offers breakfast, brunch, and cocktails. The menu in the Parlour is the same as the Glade, which is another bar inside Sketch that's sure to light up your Instagram. It's referred to as a "woodland bar," and serves breakfast, brunch, and booze.
If you aren't hungry and you're just trying to sip on some cocktails, visit the East Bar at Sketch. It's a modern bar and lounge specifically for evening and pre-dining drinks, and it features live DJs from Tuesday to Saturday.
Being at Sketch and sipping on afternoon tea made me feel like a royal, and I highly recommend visiting during your next trip to the UK In fact, with Prince Harry and Meghan Markle's wedding around the corner, you might already have a trip to England planned. If that's the case, make sure you stop by the millennial pink teahouse.
If you're visiting London and looking for even more things to do that'll make you feel like a royal, I have you covered. During your trip, you can have dinner at a Meghan Markle-approved restaurant called Bocca di Lupo. You can also take a tour of Kensington Palace and check out the Crown Jewels. If you're trying to save money during your royal getaway, just walk around and think about the Queen. If you do that (and stop for some tea at Sketch), you'll be feeling like a princess in no time.