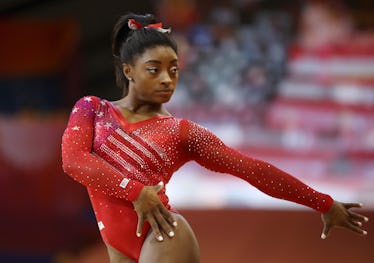 Simone Biles Powered Through A Kidney Stone To Score Big At The World Championships
Francois Nel/Getty Images Sport/Getty Images
Professional athletes are another breed of human, IMO. I truly can't comprehend the dedication and stamina it must take to compete in any kind of world class athletic environment. So when I heard about Simone Biles' kidney stone at the 2018 World Gymnastics Championships, it literally made my jaw drop. Biles not only competed the entire freaking weekend, as The Guardian reports, she managed to earn the highest individual score in the whole competition.
And, I repeat, Biles did this while she had a kidney stone. She was even admitted to the hospital over the weekend for her condition, according to The Guardian, but she left before the kidney stone passed so she could participate in the World Gymnastics Championships. And to think I used to skip high school when I had a scratchy throat — who did I think I was!?
If you have any experience with kidney stones yourself, then you know how excruciating they are, which is exactly what makes Biles' perseverance so admirable. But, if you're not that familiar with the condition, the Mayo Clinic explains that kidney stones are basically like little rocks that form in your kidneys. They're hard deposits made of various minerals and salts, and they usually form "when the urine becomes concentrated, allowing minerals to crystallize and stick together," as per the medical center.
Unfortunately, the Mayo Clinic says the only way to pass a kidney stone is to drink a lot of water and pee it out (unless it gets stuck and has to be removed surgically, but that's a different story).
Usually kidney stones are very, very painful to pass, but they don't cause permanent damage on the whole, as per Mayo Clinic. So that's definitely good news for Biles.
But either way, that kind of pain makes the mere idea of getting out of bed seem like a victory, let alone competing — and scoring big — in the World Gymnastics Championships.
According to USA Today, Biles, who already has four gold medals under her belt, "posted the highest scores of the field on vault, floor exercise and balance beam, with her vault and floor scores more than a point better than the next gymnast." Not only that, the news outlet says she nailed one of her vaults so flawlessly that the move will now be named after her. Guys, I'm shooketh.
As if all of that isn't impressive enough, Biles actually had a really great sense of humor about the whole kidney stone thing, referring to the stubborn little rock as the "The Pearl," according to USA Today. The 21-year-old gymnast also posted a picture on Instagram from the hospital — with a big, beautiful smile on her face, no less — and in the caption, she wrote that her kidney stone "has nothing on world championships."
I mean, if this isn't proof of the power of positivity, then I don't know what is, y'all.
nothing like a late night ER visit less than 24 hrs before world championships
this kidney stone can wait.... doing it for my team! I'll be gucci girls !
Best of luck in your recovery, Simone!