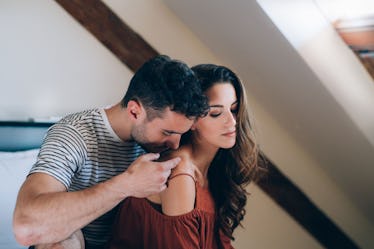 Here's What To Say If You've Cheated On Your Partner, According To An Expert
So, you cheated. Maybe it was a drunken make-out, or maybe you slept with someone else. Regardless of what specifically happened, should you tell your boyfriend or girlfriend about cheating on them? Surprisingly, the answer isn't as straightforward as you might think.
Elite Daily spoke to Wednesday Martin, Ph.D., a social researcher and writer. Her most recent book, Untrue: Why Nearly Everything We Believe About Women, Lust, and Infidelity Is Wrong and How the New Science Can Set Us Free, explores female sexuality in today's complicated social landscape. Through extensive research and interviews with experts, Martin challenges commonly accepted beliefs about female infidelity, and reveals "a truth both liberating and disconcerting: women are no more 'naturally monogamous' than men," as she writes on her website.
If you cheated on your partner, it doesn't necessarily mean the end of your relationship. It just means there is a larger conversation the two of you need to have. When it comes down to it, knowing whether or not to tell your partner about an affair depends on the particulars of your situation. Here's what one expert has to say about making this very tough decision: whether you should say something — and, if so, what — as well as how to prevent infidelity from ruining your relationship.