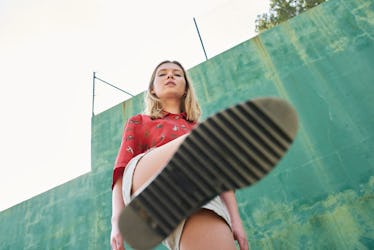 Why You Should Consider Leaving A Partner Who Cheated — Even If You're In Love
It all started to unravel when you found some incriminating texts with another girl on their phone. Or, they came clean about their indiscretion on a recent work trip. Maybe a mutual friend comes to you with hints about their recent affair. Regardless of how you find out about it, one thing's for sure: infidelity is one of the most emotionally traumatic events a person can endure in a relationship. So, should you leave a partner who cheated? Some people manage to rebuild the trust and move forward, which obviously requires a lot of digging into the deeper issues that led to the cheating. In other cases, however, it's simply time to call it quits.
Time and time again, we've seen fictional protagonists in films forgive their cheating partners. We've seen them ultimately realize that they aren't willing to sacrifice their relationship due to one misstep. In real life, deciding to end a relationship due to infidelity is obviously no simple matter. Particularly if you've been together for a long period of time — it's a lot easier said than done. After all, you likely still have a lot of love for this person — which is difficult to just throw away at the drop of a hat — and we're all human, right? We all make mistakes. In fact, 22 percent of men and 14 percent of women admit to cheating on an SO, according to Trustify. However, just because it's common doesn't make it any less devastating. The range of emotional damage that can result from cheating may be reason enough to walk away.
I consulted Chelsea Leigh Trescott, breakup coach and podcast host of Thank You Heartbreak, and Nicole Richardson, licensed marriage and family therapist, about valid reasons why you might consider leaving an unfaithful partner. Here's what they had to say.