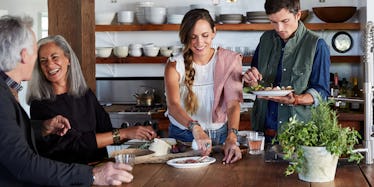 How To Figure Out If You Should Get Your Partner's Mom A Mother's Day Present
Dating someone and trying to figure out what to get their families during the holidays can be a little confusing. If you're a guest for Christmas or Hanukkah, do you shell out gifts for every single family member? Do you go in on a present with your significant other for their family, which can often extend to parents, siblings, cousins, and even family friends? Some people go with a more minimal system, and are assigned a specific person to gift. But what about a Mother's Day gift for your boyfriend or girlfriend's mom? It's a less obvious holiday, then, say, Christmas or Hanukkah, and it's not as ubiquitous to get presents for other mothers on this holiday when it's not your own.
But depending on how long you've been dating your partner, and how close you are to their mother, you may want to get a little something just to show you appreciate her and care. For me, when I was in a long-term relationship in college, I wasn't that close with my partner's mom. I didn't get her a Mother's Day gift, but always would get her a gift on Christmas, when I'd stay at their house. Maybe it'll be different in the future if I'm much closer with a partner's mom, but in that circumstance, it would've felt awkward to me.
To get a range of opinions on whether or not women tend to get their partner's mom a Mother's Day gift, I asked around to see how most people in relationships tended to handle the holiday.
Sally and her partner of over five years opt for going in on a nice gift from both of them to both of their moms for Mother's Day.
"It only feels right — each of our moms (and dads!) have put so much love and care into fostering and supporting our partnership," Sally says. "We already feel at home with each others' families, so it's a no-brainer for us to give gifts to each other's parents all the time."
Sally talked about how she and her partner have already gotten her partner's mom a gift together for Mother's Day.
"She's a huge David Bowie fan, so after we all went to the [David] 'Bowie Is' exhibit at the Brooklyn Museum, Jen and I coordinated with her dad to keep her away from the gift shop for a few minutes while we bought her the coffee table book with all the photos, costumes, and stories shown in the exhibit. We couldn't wait to give it to her, so we caved about 20 minutes after we left! Even though we told her this was her Mother's Day gift, we'll probably get her another little something when the time comes."
As for gifts for Sally's mom for the holiday, she says that her mom prefers letters and notes over presents.
On the other end of the spectrum, Annie*, 25, doesn't like to get her partner's mom a Mother's Day gift due to their rocky relationship.
"From the very first time we met, my fiancé's mom has been absolutely atrocious to me," Annie says. "[She] pretends to be nice when we're around other people, saying 'I love you, you're like a daughter.' Then when we're alone, [she] rips me apart for taking her son away and for not being the same nationality as her."
Annie doesn't want to get her fiancé's mom a gift on the holiday that she celebrates her own "loving and accepting" mother.
Some Mother's Day gifts can be a way to let her know you appreciate her while also making a difference.
Stephanie, 23, gifted her partner's mom and her own mom on Mother's Day by donating in their names to the charity Saving Mothers, which raises awareness about mothers who die while giving birth and raises funds for solutions.
"Basically they run a campaign around Mother's Day where you can make a donation in someone's name and they get an e-card saying thank you," Stephanie explains. "Each kit goes to helping a birthing mother deliver safely despite poor sanitary conditions. Generally, it felt like an appropriate gift for both moms, and more meaningful than flowers (the slogan for all of this is 'honor your mother by saving another'). I'm a big believer in donations in someone's name to a non-profit of your choice for holidays — and if you're buying for two moms instead of one, than all the better! My boyfriend's mom has been in my life for so long now, that I really do consider her family and thus a part of this day."
For your own personal situation, consider how close you are with your partner's mom – do you feel comfortable celebrating her as if she is a mother figure to you, too? If so, there's no harm in getting her a little something to show you care.
*Name has been changed.