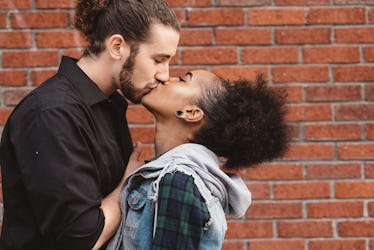 4 People Who Said "I Love You" For The First Time On V-Day Reveal How It Went
What better time to say "I love you" than the most romantic holiday of the year? Valentine's Day is all about honoring your love for bae, so it makes sense that it might be a good time to say those three little words for the first time. Whether you're keeping things low-key or going all out, it's tempting to express all your new feelings on a day filled with passion. Should you first say "I love you" on Valentine's Day, or is it potentially a recipe for disaster?
On a day filled with candy and flowers galore, it's likely that you'll be feeling all kinds of heart fluttery feels for your partner. Whether you've been dating for two weeks or two years, it's only natural that a celebration of love would help you realize that maybe you're in love yourself. It's not uncommon for people to decide to make the move on Valentine's Day, finally telling their partner that they've fallen head over heels. In these stories below, this experience is all too real — and the results are surprising. Read on for some inspo for why Valentine's Day is the perfect occasion for a verbal declaration of love… or why it might just be the worst time ever to confess your true feelings.