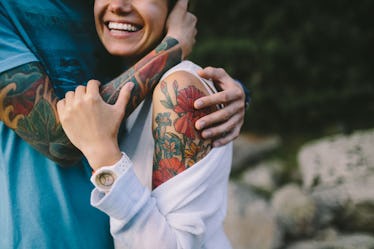 8 People On How Dating Around Before Settling Down Helped Their Relationship
Some may find "the one" early in life and immediately settle into a monogamous relationship. As for the rest — it takes a little trial and error to ultimately land on romantic happiness. If you've ever found yourself wondering, "should I date around before settling down?" consider this: doing so can actually be beneficial for you in the long run. With each experience, you begin to clarify what you're looking for (or what you aren't looking for — which TBH, is equally valuable knowledge). Not to mention, maturity comes with age. As you continue to date, you may realize that the traits you thought were important (height, a passion for baseball, the ability to perfectly cook a steak), actually don't matter nearly as much as the other factors (compatible communication styles, core values). You start to learn what you're willing to put up with, what you can compromise on, and what you simply can't tolerate.
It goes without saying that the game has changed quite a bit since our parents were dating. According to 2018 estimates from the U.S. Census Bureau, the average age for women to get married in 2017 was 27.4 years old, and the average age for a man's first marriage was 29.5 years old. That's a new record high — in fact, the average age for women to get married was 22 in 1980 and 20.3 in 1960. While neither approach is right or wrong by any means, and settling down early can work for some, others may find that it takes weeding through the ones who aren't a good fit to find the one who is. Here's what eight people have to say about how dating before settling down ultimately made them a better partner in their relationship.