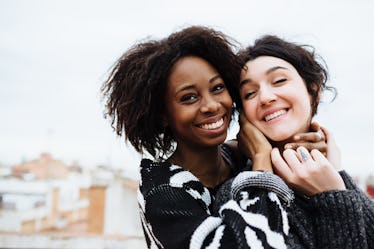 7 Women Who Popped The Question To Their Partners Explain Why & How They Did It
Although gender may well be a social construct, the societal pressure that gender roles put on romantic relationships is real AF. From "the man should pay the bill" to "the woman should never make the first move," there is no shortage of societal "rules" about how love should work. Of course, you and your boos can do whatever feels right for you. And if you're wondering: "Should women propose to their partners?" — you're not the only one.
From destination ceremonies in the tropics to eloping at town hall, weddings and wedding preparation look different for everyone. Whether your relationship doesn't involve any men, or you're a woman dating a man and you're ready to pop the question, it totally OK for women to make their own choices. When it comes to love, you get to make the rules and you get to do what feels right for your relationship. From fairy tale proposals with costumes involved to a sleepy morning "let's get married" when you're still in your pajamas, engagements take many forms. There is no one way to pop the question, regardless of anyone's gender.
I spoke with seven women about why they proposed to their spouses, and what they said is totally rad.