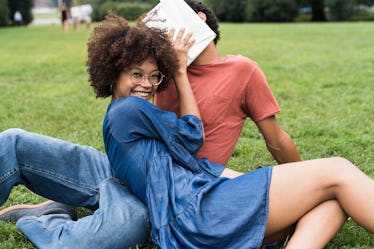 If You've Been Wanting To Make Moves On A Cutie Since College, Here's Why Homecoming Is The Perfect Time
To say you had a crush would be an understatement, TBH. You totally missed History of Jazz lectures because you were distracted by their perfectly disheveled hair. You stole a glance across the dining hall and nearly fell right over. You borrowed their pencil once during an exam and it was honestly the highlight of your week. Ultimately, you never quite got up the courage to ask that cutie out, but fret not — this weekend presents the perfect opportunity to talk to your college crush at homecoming.
Without a doubt, homecoming is one of the most anticipated events for college graduates. The alumni spirit and pride are intoxicating, and the reunions with friends in familiar places bring on a hefty wave of nostalgia, and the IG post possibilities are endless. Better yet, homecoming means you have a second chance at talking to that crush you were too shy to hit on. After all, you may want to secure a date, and who better than the person you fantasized about semester after semester?
"Life is not a dress rehearsal," Fran Greene, Licensed Clinical Social Worker and author of The Secret Rules of Flirting, tells Elite Daily. "Since you may never get another opportunity to let your crush know that you really liked them when you were in school together, this is the time to do it!"
Sometimes, all it takes is a little life experience out in the working world to gain a little more self-confidence — which is precisely what you may need to pursue that cutie you've had your eye on. There's nothing worse than wondering "what if?" So, consider homecoming your chance to finally find out whether you and that college crush have #powercouple potential.