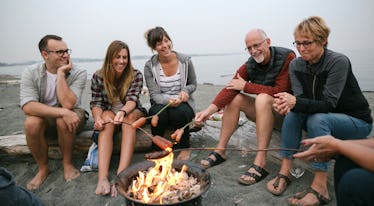 4 Good Signs You Feel Ready To Introduce Your Partner To Your Family
When dating someone new, it's easy to think about them more than ourselves. Are they happy? Are they sexually satisfied? What do they want? But we tend to forget how we feel ourselves. I rarely ask myself if I'm comfortable, or if I even like a guy as much as I think I do. This also applies to big relationship milestones, like introducing your partner to your family. It's easy to wonder if everyone else is ready, but why do we rarely ask ourselves, "Am I ready to introduce my partner to my family?" We tend to overlook questions like that in regards to any part of a relationship, but putting yourself first is extremely crucial to self-care.
Putting others before yourself is a noble thing to do, but when you do it all the time, it can often result in an unhealthy relationship, both with your partner and with yourself. And who wants that?! No one, especially when it comes to something as big as meeting the parents. You want yourself, your partner, and your family to all be on the same page when it comes to finally making formal introductions, because having people you care about care about each other is an amazing thing! But before asking your mom if she's ready, or your partner if they're ready, you should always ask yourself if you're ready.
"What often happens to those who simply give in and put themselves last is that eventually — sooner rather than later, one hopes — that person will realize that she or he is unhappy and resentful, more so when they realize it's their own responsibility in this," wrote Isadora Alman, MFT, CST in Psychology Today. "What I'm suggesting is that when there's a decision to be made, from the mundane to the life altering, we all need to do an internal check-in first. Is what is being proposed really okay with me?"
Part of doing that internal check-in is looking introspectively at the things you do and the ways you feel in your relationship. I spoke to Dr. Jess O'Reilly, host of the Sex With Dr. Jess Podcast, about the ways you can tell you're actually ready for your partner to meet your family.