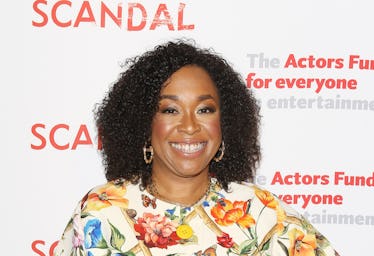 Shonda Rhimes Has 8 Netflix Shows In The Works & I Don't Know What We Did To Deserve This
Michael Tran/Getty Images Entertainment/Getty Images
Shonda Rhimes undoubtedly tops a list of Hollywood's busiest people ever, and even though Scandal ended recently and some other shows on ABC's TGIT roster may slow down soon, Rhimes definitely isn't stopping. Her deal with Netflix has set Shondaland fans into a frenzy of wondering what comes next, and I'm in the same boat. ICYMI, Shonda Rhimes has eight Netflix shows in the works, and I'm losing my mind over the universe blessing us this way.
While we've known about Rhimes adapting the New York magazine story "How Anna Delvey Tricked New York's Party People," her production company Shondaland has revealed the other projects that are in store. Rhimes helped pave the way for diversity on prime time broadcast television, and next on her to-do list is to continue to do the same at Netflix. The lineup of her upcoming projects is seriously versatile, and in a statement about her new work, Rhimes touched upon what the hefty deals mean to her as a content creator, saying:
I wanted the new Shondaland to be a place where we expand the types of stories we tell, where my fellow talented creatives could thrive and make their best work and where we as a team come to the office each day filled with excitement. This is Shondaland 2.0.
Across the nation, I think thousands of diehard Grey's Anatomy fans' hearts just broke at the thought of Rhimes stepping further away from her original TV babies. But then again, one look at her list of new plans should soothe that heartbreak ASAP.
In addition to her Anna Delvey project, Rhimes has secured the rights to several novels and unique ideas for her Netflix brand. In an untitled project, she and her team will adapt Julia Quinn's bestselling Bridgerton Regency romance series in "a smart, feminist take" on London's high-society women and men's quests to find love. Netflix and Rhimes will also adapt Isabel Wilkerson's The Warmth of Other Suns, covering African-Americans' migration to avoid Jim Crow laws in the South, and Katie Andersen Brower's non-fiction book The Residence: Inside the Private World of the White House, which explores White House residence staffers' real relationships with the various First Families.
Rhimes will also create more historical content, as seen by the description of the planned series Pico & Sepulveda. The project will take place in the 1840s in the then-Mexican state of California and explore possibly brutal American efforts to claim the area as its own. Shondaland will also experiment with dark comedy in the half-hour series Sunshine Scouts, in which an "apocalyptic disaster" forces a group of girls at sleepaway camp to utilize their survival skills and assure that humanity survives with a Scout-like decency.
In a move to share true, inspirational stories, Rhimes even has a documentary in store for Shondaland fans ready for a healthy dose of knowledge. Hot Chocolate Nutcracker is an inside look at the Debbie Allen Dance Academy's reimagined production of The Nutcracker, featuring an inclusive cast and several different "dance traditions." If any of Rhimes' ABC shows happened to take place in a dance school, this documentary essentially sounds like the real-life version of how a Nutcracker-themed Christmas episode would go.
The company will also turn to reality when it adapts investor Ellen Pao's memoir Reset: My Fight for Inclusion and Lasting Change. Pao made headlines when she filed a lawsuit against Silicon Valley firm Kleiner Perkins Caufield & Byers for sexual harassment, and the memoir follows her experiences in Silicon Valley and how they foreshadowed the Time's Up movement. It's safe to say that if any TV fans grow tired of the on-and-off-again romances in ABC's Shondaland shows, stories like Pao's sound like the perfect fuel if you're in need of fierce empowerment ASAP.
Rhimes has clarified that she will still work on her existing ABC shows in addition to developing new content at Netflix. There's no word about when the first of her upcoming shows will appear on the streaming service, but at this point, I can't even tell which of the shows excite me the most. Thanks for being a total boss in the TV industry, Shonda!