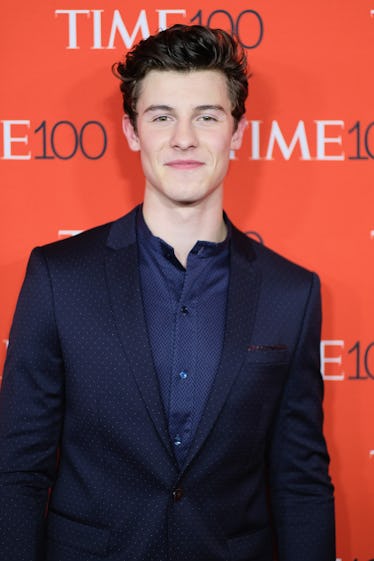 Shawn Mendes Just Dropped A New Song With Khalid & The Lyrics Are So Deep
Dimitrios Kambouris/Getty Images Entertainment/Getty Images
There are some songs that pack a real suckerpunch with their lyrics, and Shawn Mendes just dropped a track that truly strikes a chord. In just three weeks, Mendes will be releasing his self-titled third album, but on May 3, he dropped "Youth," which is sung in a duet style alongside five-time Grammy Award nominee Khalid, and let me tell you, the song is breathtaking. Written as somewhat of a tribute to the victims of the Manchester bombings in 2017, Shawn Medes' "Youth" lyrics are so powerful, and so, so deep.
Premiering exclusively on Apple Music's Beats 1 with Zane Lowe, Mendes talked about what happened after the explosion that took place at an Ariana Grande concert on May 22, 2017 in Manchester, United Kingdom and the 2017 terror attack on London Bridge. "I remember that day thinking, like, 'OK, I gotta text [Khalid],'" Mendes told Lowe. He continued, telling Lowe that he knew he needed to "make a statement" and try to write about how the "youth is feeling" after the attack. He said,
When I texted him, I said, 'When we get together, we have to make a statement. We have to move. We have to write about what's going on in life and how the youth is feeling because I think we have the voice to do that.' We got together that day and I was like, 'This is a huge task.' Because you're always terrified going into a session knowing like, 'OK, this is going to be a big session. I have one day. Is it going to be the greatest song or not?'
Mendes also talked about how he felt when he woke up the next morning. "I remember I woke up in the morning and the whole thought of my youth trying to be taken away from me [was overwhelming]. Not youth as in my age — youth as in my love, my happiness, my joy, my purity ... I was like, 'This is what we have to write about.' And It was awesome. I'm really, really proud of the song."
And he should be proud, because the song is not only gorgeous, but the message it sends across is very empowering. Some of the lyrics go:
Here I am, stuck on this couch, Scrolling through my notes, Heart was broken, still not growing, nah, Waking up to headlines, Filled with devastation again, My heart is broken, But I keep going.
The song continues:
Pain, but I won't let it turn into hate, No, I won't let it change me, Never losing sight of the one I keep inside, Now, I know it, Yeah, I know it.
And then, the chorus:
You can't take my youth away, This soul of mine will never break, As long as I wake up today, You can't take my youth away.
You can listen to the whole song here, and I promise you that it's worth it:
In his interview with Lowe, Mendes also confessed how writing "Youth" was "so hard," mainly because of how intense the subject matter is. "It's so easy to sit at a piano and talk about being in love or heartbreak or something," Mendes said. "But the hardest thing in the world is to sit at a piano and talk about what the world is going through, and heartbreak, in a different light."
Honestly, I believe that this song perfectly encapsulates what the audience needs to hear: Despite all tragedies, fears, and pain, there is not a single thing that can take away the idea of hope or a person's spirit.
A huge round of applause to Mendes for singing those thoughts that can sometimes be so very hard to say.