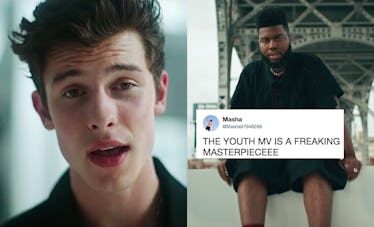 Shawn Mendes & Khalid's "Youth" Music Video Sends A Powerful Message About Need For Change
YouTube/Twitter
Shawn Mendes' self-titled album was a hit among fans when it dropped in May 2018, but one song, in particular, stands out from the tracklist as an empowering song calling for political change in the United States. Shawn Mendes' "Youth" stands as an anthem for teens whose lives have been affected by gun violence, and it was a powerful enough track on its own before a music video was even thought of. Now, Shawn Mendes and Khalid's "Youth" music video amps up that powerful statement to new heights with appearances by inspiring children/teens/young adults — most of them not yet old enough to vote, and yet they're taking action regardless.
The music video features Mendes and Khalid, of course, but the real stars are the lengthy list of people as young as 8 years old and as old as 20 showing off what makes them so proud to be alive. One of the people featured in the video is 18-year-old D'Angelo McDade, who is a survivor of gun violence. The song and its new music video serve as a call to action to kids and teens across America to fight gun violence (clips from the March For Our Lives rally are featured at the beginning of the video), as well as a statement to older generations meant to show the power the up-and-coming generation wields.
Part of Parkland shooting survivor David Hogg's speech at the March For Our Lives rally is played at the beginning of the eight-minute video. His words come a few frames after the opening image of a gun crashing to the ground. Hogg's line — "If you listen real close, you can hear the people in power shaking" — echoes as the video cuts to a frame of a teenage artist at work as the music starts.
The video is a powerful example of the strength, determination, and galvanization of America's youth.
Mendes and Khalid appear intermittently throughout the video, but they acquiesce the stage to the inspiring people participating in the video.
They shine a spotlight on drag queens, teenage activists, black female filmmakers, athletes, national policy debate winners, martial arts champions, musicians, spoken word poets, painters, ballerinas, hearing-impaired dancers, and an 8-year-old bodybuilder pulling a car behind him. They also feature Ahmed Mohamed — the boy who was arrested for bringing a clock he engineered himself to school — kneeling in prayer in front of the Statue of Liberty. They show us survivors of gun violence. Closing out the video, they give us 4-year-old Austin Perine — a "superhero who feeds the homeless" — saying, "Don't forget to show love." Try to get through the video without getting chills.
Fans are in love with the "Youth" music video, which was fittingly debuted on Nov. 5 — the day before the 2018 midterm elections.
It's a powerful video surely intended to produce an emotional response.
The "Youth" lyrics become even more powerful when paired with the images of these kids. Mendes sings,
Pain, but I won't let it turn into hate / No, I won't let it change me / Never losing sight of the one I keep inside / Now, I know it, Yeah, I know it.
Mendes and Khalid then sing,
You can't take my youth away / This soul of mine will never break / As long as I wake up today / You can't take my youth away.
Did y'all vote today?