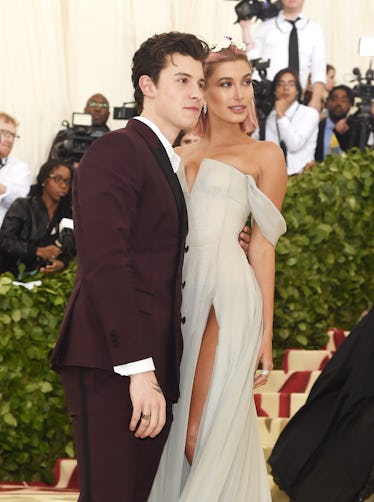 Shawn Mendes May Have Just Admitted He & Hailey Baldwin Weren't Just Friends
Jamie McCarthy/Getty Images Entertainment/Getty Images
Now that Justin Bieber and Hailey Baldwin have finally confirmed that they are married, it seems almost impossible that it was actually Shawn Mendes who was Baldwin's date at the 2018 Met Gala in May. Like, did we all just dream that? Apparently not. Because even though the supermodel was spotted making out with the Biebs just a few weeks after #Shailey infamously rolled up to the red carpet together holding hands, Shawn Mendes' comments about Hailey Baldwin in the December issue of Rolling Stone may prove these two were more than friends for a hot sec, after all. And now I retroactively feel so bad for Mendes, because he is legit the sweetest human alive and I bet Baldwin totally broke his heart. If you need a shoulder to cry on, Shawn, I am right over here.
Anyway, in case you forgot, rumors about a Baldwin/Mendes relationship first started circulating back in the fall of 2017, after they were spotted holding hands at Baldwin's Halloween party.
"It started out casual as they would run into each other at parties and hang out, but most recently it's become more serious," an insider told E! News at the time. "They are definitely dating and spend a lot of time together."
The pair was even spotted hugging on the streets of Shawn's Toronto hometown during the winter holidays that year. And in April, Baldwin made her first official appearance on the "In My Blood" singer's Instagram feed.
Could these two be any hotter?
A month later came the infamous Met Gala appearance. But despite all the swirling rumors and photographic evidence, both Mendes and Baldwin continued to claim they were just friends.
"We're really good friends," Mendes explained in an interview with W magazine, published on May 8, the day after the pair showed up at the Met Gala together.
As for Baldwin, she previously issued her own denial at the IHeartRadio Music Awards in March.
"He's a friend of mine and we hang out, so I see why people obviously want to make assumptions," she told Access Hollywood. "Any guy I hang out with people are like, 'Oh, she must be dating him or something's going on,' but I don't ever really feel like I have to explain myself. It's kind of my business and the other person's business. That's it."
Fair enough.
Now, though, Mendes — who told Rolling Stone he was really happy for Baldwin and still thinks she's "one of the f*cking coolest people ever" — seems to be coming clean about the fact that he and Mrs. Bieber were actually more than friends, though he still didn't really know what to call whatever they had going on.
"I don't even wanna put a title on it," he explained. "I think it was more of a zone of limbo."
So there you have it.
Also, I think "zone of limbo" has just replaced "consciously uncoupled" as my new fave way to describe some kind of amorphous stage of a relationship.
Sorry, Gwyneth!