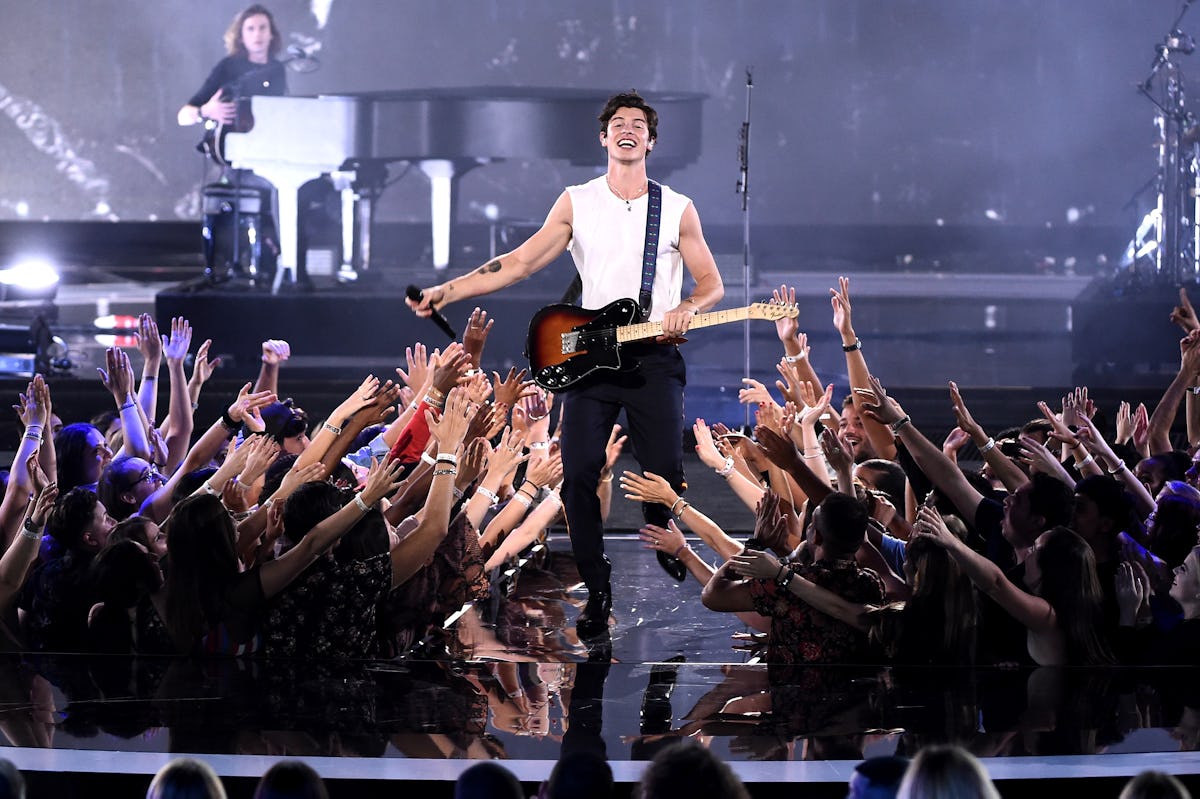 Shawn Mendes Opened Up The VMAs With A Seriously Steamy Performance
Michael Loccisano/Getty Images Entertainment/Getty Images
Well, Shawn Mendes officially melted hearts across the nation with his swoon-worthy performance at the 2018 MTV Video Music Awards. The 20-year-old singer-songwriter took the stage around 9 p.m. ET on Monday, Aug. 20 inside Radio City Music Hall. Based off the crowd's reaction, it's safe to say the audience loved Mendes. If you didn't have the chance to see Shawn Mendes' 2018 VMAs performance, tune in ASAP or scan Twitter for videos. Do something. Mendes is a true talent, and watching him sing will rock your world.
Let me tell you a little bit about his moment in the spotlight. Mendes took the stage shortly after the show started and sang his hit song, "In My Blood." Between his epic performance and rainy set, the singer-songwriter took the show by storm (literally). There was rain, lightning, and beautiful music. TBH, it was my favorite storm of the season.
Not only did Mendes get a chance to perform at the VMAs (and show off his abs in a rain-soaked white tee), but he is also nominated for three awards. They include Best Pop, Best Cinematography, and Best Direction. Each one of Mendes' nominations honor "In My Blood," which was released on May 25, 2018 as part of his self-titled album, Shawn Mendes. If you haven't listened to the track yet, you definitely should. Not only is it super catchy, but the lyrics are also extremely heartfelt. It's no wonder why he decided to perform that song at the VMAs. It sounded incredible.
After watching Mendes' performance, you might be reminded of a certain celebrity who's also a singer-songwriter (and my crush, of course). I'm talking about John Mayer. Believe it or not, Mayer became Mendes' music mentor after the Mendes joined him on stage during a concert in Toronto in April 2017. Since then, Mayer has been giving Mendes advice, both on and off the stage.
In fact, Mayer is featured on one of Mendes' new songs, "Like to Be You." The track — which was produced by Mayer — also features a solo by the 40-year-old musician, per People.
Mayer even talked about Mendes to Zane Lowe on Beats 1 in May 2018, and only had good things to say. He proclaimed, "Shawn's just a better version of me in a lot of ways. Shawn's like John Mayer 2.0, without the weird software viruses." (I think that's definitely a compliment.)
So, if you did see similarities between the two performers, that's why.
Even though Mayer is fond of Mendes, I can think of a celebrity that might not be. I'm talking about Justin Bieber, who recently proposed to Hailey Baldwin. In case you're unaware, Baldwin and Mendes have been considered an item in the past (like, a few months before the new engagement). So, that's awkward.
Regardless, Mendes has already commented on the couple and seems unbothered. He spoke to ETALK in June 2018, and said, "I don't know if they're dating or not ... I love them both. They're both really awesome people." How mature, right?
Even so, tonight isn't about Mendes' love life. It's about his performance and his nominations, and it's obvious that he's having a blast.