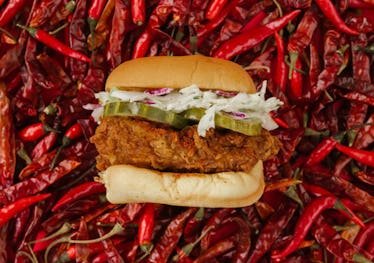 Shake Shack Just Brought Back The Fan-Favorite Hot Chicken Sandwich
Once upon a time, in a land far, far, away, there was a fast-casual establishment that everybody knew as Shake Shack. Despite the fact that its burgers and fries were highly renowned, the burgers-and-milkshake joint made the decision to stray from the norm when it created the Hot Chick'n sandwich. Although this glorious creation was only available for a (far too) limited time, Shack fans and chicken lovers were all over it. Lucky for them, Shake Shack's hot chicken sandwich is back with an extra spicy twist. I don't know about you, but I am totally and utterly beside myself with joy.
The Hot Chick'n (the menu name for the brand's hot chicken sandwich), according to a press release, is back for a limited time, and it's better than ever. As of Thursday, Sept. 20, 2018, customers at participating Shake Shack locations nationwide will be able to order the Hot Chick'n sandwich they once came to know and love, way back in 2017. But, this time, the heat level is completely customizable. If you tend to like your food a little hot n' spicy, ask for it "hot." However, if you like your bites to be spicier than most can handle, ask for it "even hotter." We're not at Burger King, y'all, but you can legitimately "have it your way."
If you didn't get a chance to try Shake Shack's Hot Chick'n in the past, it's a pretty unforgettable experience. According to a press release, the recipe starts out with an all-natural chicken breast, which is slow-cooked in a rich buttermilk marinade. It gets hand-dipped into house-made batter and seasoned flour, before getting crisp-fried and sprinkled with guajillo and cayenne pepper. Finally, the crispy, hot chicken breast is carefully placed onto a non-GMO potato bun along with with Louisiana hot sauce coleslaw, and, of course, Kosher pickles. Hot dang, this sammy is so. Freakin'. Good. Ask anyone.
Gurl, could you BE any more delectable? Seriously, I can't handle this.
YUM.
Sadly, there's kind of a catch behind all of this glorious news. It totally and utterly breaks my heart to inform you that the Shake Shack Hot Chick'n Sandwich's time on earth is, once again, limited. Yes, you read that correctly — according to a press release, it will only be back for a very limited time. So, hug your friends and family goodbye, because it looks like you're going to have to live at your nearest Shake Shack location, in order to get your daily intake of Hot Chick'n sandwiches. TBH, I'll probably be eating extra hot Hot Chick'n sandwiches every single day until they're gone.
The quick service restaurant also introduced another new item this week: chicken nuggets, also known as Chick'n Bites. They're in the testing phase right now, and you can only get them at Shake Shack's West Village location, as well as at their Innovation Kitchen. Other New York City locations will start serving them in late September. Ideally, they'll pass the testing phase to become a full-time menu item.
I'm all about Shake Shack's OG burgers and fries, but the Hot Chick'n Sandwich is definitely a must. Enjoy the heat while it lasts. Hopefully, the chain will decide to keep it around.