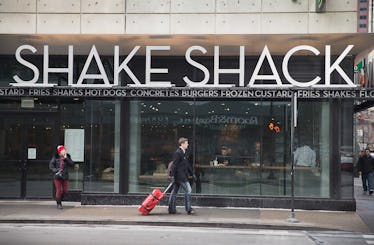 Shake Shack Is Introducing Chicken Nuggets, Like You Needed Another Reason To Go
Scott Olson/Getty Images News/Getty Images
Shake Shack is known for its incredibly delicious and juicy burgers. It is a part of its logo, after all. Now, the self-proclaimed burger joint is adding another fast-food staple to its arsenal: Chick'n Bites. The new menu item is still in the testing phases, but that doesn't mean you can't taste the crispy chicken bites for yourself. Shake Shack's chicken nuggets are available at select locations for your next meal. Here's where you can get them.
OK, I'm a sucker for Shake Shack. More specifically, I'm a big fan of the ShackBurger (extra pickles, please). I may have to put my favorite menu item on hold to try Shake Shack's Chick'n Bites. According to Thrillist, Shake Shack is cooking up Chick'n Bites at certain locations across the country. Right now, Chick'n Bites are only available at Shake Shack's West Village Shack and Innovation Kitchen at 225 Varick Street in New York City, according to QSR Magazine. Additional Shake Shack locations throughout New York City will serve Chick'n Bites starting in late September. This is great news if you live in NYC, but if not, just sit tight for now. Shake Shack is reportedly expanding its Chick'n Bites to other Shake Shack restaurants in October, according to Thrillist.
Chicken nuggets are basically a staple of any fast-food menu, alongside burgers and fries. It's about time Shake Shack decided to try its hand at the crisply fried bites of poultry. Except, Chick'n Bites are prepared a little differently than your average chicken nugget, according to Thrillist. The chicken that Shake Shack uses for the Chick'n Bites is fresh, never frozen, and is free of antibiotics. The Chick'n Bites are prepared using the sous-vide method of cooking to ensure optimal flavor and tenderness. Sous-vide is a method of preparing food where meat is placed in a plastic bag and cooked in hot water until done. Shake Shack spares no expense for even something as simple as chicken nuggets. I'm here for it.
Shake Shack CEO Randy Garutti shared a picture of the crispy Chick'n Bites on Instagram and my mouth is already watering. According to Thrillist, Chick'n Bites will come with barbecue or honey mustard sauces for dipping. Of course, there's nothing stopping you from using yellow mustard, ketchup, or even honey to dunk these bad boys in. Shake Shack's Chick'n Bites will be sold in two different sizes. The six-piece order of chicken nuggets will cost $4.39 and the 10-piece order will cost $6.39, according to QSR Magazine.
Daniel Meyer, a New York City restaurateur, founded Shake Shack in 2004. Since then, Shake Shack has expanded from just a handful of storefronts in NYC to restaurants all across the country. There are 162 Shake Shack locations across the globe, and the fast-casual burger joint has plans to further its expansion, according to QSR Magazine. I can only hope that each of its locations will bring Chick'n Bites to the menu. As if I needed another reason to eat at Shake Shack.