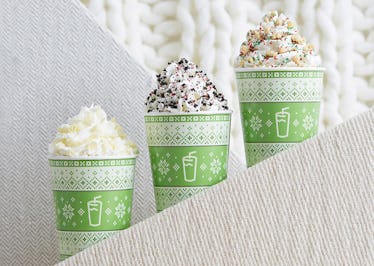 Shake Shack Just Released New Holiday Shakes That Make Me Want To Deck The Halls
Call me a curmudgeon, the Grinch, or Ebenezer Scrooge, but usually, I don't really feel like I can get into the holiday spirit until Thanksgiving passes. I just get far too wrapped up in preparing for Turkey Day to even start thinking about decking the halls with bows of holly, lighting a menorah, or jingling any bells. This year, however, I can make an exception, because Shake Shack's 2018 holiday shakes are finally here, after way too many months of eagerly waiting. I don't know about you, but they're totally getting me psyched to have a holly jolly Christmas.
IMO, the holiday season doesn't officially start until Dec. 1, but things are a little different at Shake Shack. On Tuesday, Nov. 13, the New York City-based burger joint's holiday season finally began, as they released their three holiday-themed milkshakes, according to a press release. The Chocolate Peppermint and White Mocha are totally new to the menu this year, while the Christmas Cookie is a classic fan favorite. Each flavor is super festive, and definitely get me into the holiday spirit. Just make sure you get one (or all three) before they're gone — they'll only be available through Wednesday, Jan. 2. Until then, though, check out what each flavor tastes like — to be completely honest, my mouth is already watering.
The Chocolate Peppermint consists of chocolate frozen custard, which is blended with cool, refreshing peppermint, according to the press release. All of that is topped with fluffy whipped cream and sprinkled with chocolate peppermint candy bits. It literally tastes like a Peppermint Patty you can sip, so there's definitely no going wrong there.
The White Mocha, on the other hand, has a rich white chocolate coffee frozen custard base that's covered in delectable whipped cream, according to the press release. All of that is then topped with delicate white chocolate curls, and I don't know about you, but it sounds like a party in a festive to-go cup.
The Christmas Cookie, according to the press release, is a total blast from year's past. It's a particularly festive concoction that's made up of sugar cookie frozen custard, whipped cream, crumbled shortbread, and red and green sprinkles. I gotta get me some of that.
You can snag each and every one of these limited edition flavors in-store, or you can order them through the Shack App ahead of time. Regardless of how you get your hands on them, though, I almost promise that you'll be 100 percent satisfied with your order.
Once you've had your share of Christmas-y shakes, make sure to try out Dairy Queen's Blizzard of the Month for the month of November: the Hot Cocoa Blizzard. It blends crunchy Oreo cookies with creamy cocoa fudge and it's topped with a delightful whipped topping. It literally sounds like frozen hot chocolate, so definitely count me in.
OK, OK, Shake Shack has totally convinced me to start celebrating the holiday season early this year. There's nothing better than a few new festive sips, and the Shack is giving fans three tantalizing options. Use them as a dip for fries, or chug it during your lunch break. Regardless of how you decide to enjoy it, I know for a fact it'll get you into the holiday spirit.