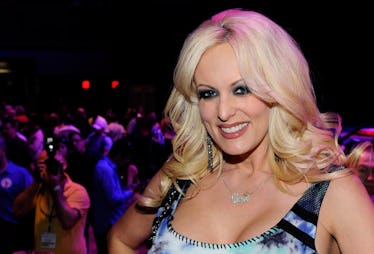 This Celeb Said He's Known About Stormy Daniels' Alleged Affair With Trump For Years
Ethan Miller/Getty Images Entertainment/Getty Images
Pretty much the entire world has heard about President Donald Trump's alleged affair with Stormy Daniels by now. But some people have been in the know on the alleged relationship a lot sooner than anyone else. One celebrity recently revealed that he's also been aware of the story, and it's definitely not a name that you'd expect. Seth Rogen revealed that he's known about Stormy Daniels' alleged affair with Trump for a quite some time now. Really, of all people, I didn't expect Rogen to be the one with the dirt.
That's right — Seth Rogen has randomly been in the know for much longer than the world has, and everyone else is just playing catch up. On April 2 the actor said in an interview on The Ellen DeGeneres Show that he's known about Daniels' alleged affair with the president for close to ten years. (The White House has denied that Trump and Daniels ever had an affair, calling her claims "not accurate.") In the interview with DeGeneres, Rogen said,
I've known Stormy Daniels a long time and, I'll be honest, she may have mentioned some of this stuff around ten years ago. At the time, when you ask a porn star who they've been sleeping with and the answer was Donald Trump, it was like the least surprising thing she could've said.
Ten years? Ten years you've been sitting on this story, Rogen? Way to hold out on us.
The fact that Rogen has known about this supposed affair for so many years might sound random at first, but it actually does make sense. As Rogen explained in the interview, he's known Daniels because she's been in a couple of his movies — specifically, The 40-Year-Old Virgin and Knocked Up. When asked why he'd chosen Daniels for these two films, Rogen explained he needed an actress to play a stripper in those two films, and felt it'd be easier if he booked an adult film star for the gig as opposed to a mainstream actress. Rogen added that, "For Stormy, it was the easiest thing she did all week." LOL — so true.
Although Rogen hasn't seen her in years, he said that she seems to "clearly" have done well for herself. Which, I guess if you consider getting involved in political scandal "doing well," is true.
It's seriously crazy that just ten years ago it was unsurprising to learn about Trump allegedly cheating on his wife with an adult film star, and yet today as president this alleged affair is taken much more seriously.
On Jan. 12, The Wall Street Journal published a report that said Michael Cohen, one of Trump's lawyers, arranged for a $130,000 payment to be made to Daniels, who had claimed to have an affair with the now-president. Cohen later said on March 9 that he made that hefty payment out of his own pocket, and that the payment had absolutely nothing to do with Trump's presidential campaign. Cohen said in a statement at the time,
Neither the Trump Organization nor the Trump campaign was a party to the transaction with [Daniels], and neither reimbursed me for the payment, either directly or indirectly. The payment to Stephanie Clifford was lawful, and was not a campaign contribution or a campaign expenditure by anyone.
Since that initial report broke, this story has gone off the rails, with Daniels revealing a ton of details about the alleged affair in a March 25 interview with 60 Minutes. Notably, Daniels said in the interview that a strange man approached her in a parking lot and warned her to keep her mouth shut about her alleged affair, and even insinuated that her then-infant daughter might get hurt if she didn't stay quiet.
With all the drama, I wonder who else might have known about this alleged affair when it was supposedly happening. Now this is all out in the open and Daniels is openly discussing the alleged affair, who knows what other dirt she might have?