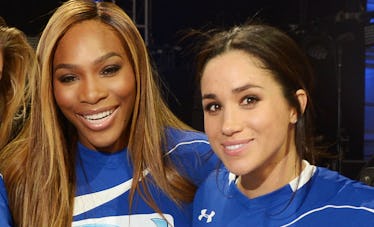 Serena Williams Shared What Meghan Markle's Friendship Means To Her In The Loveliest Way
Michael Loccisano/Getty Images
Is there anything better than a good, solid friendship between two famous women? There's Busy Phillips and Michelle Williams, Jennifer Lawrence and Emma Stone, Millie Bobby Brown and Maddie Ziegler, and the OGs: Jennifer Aniston and Courteney Cox. But I don't think you can name a more of-the-moment pairing than Serena Williams and Meghan Markle, Duchess of Sussex, can you? The two celebs have been friends since 2010, but they've each been the source of some pretty intense media scrutiny lately, and it turns out they totally lean on each other for support. Serena Williams' comments about her friendship with Meghan Markle prove what a beautiful thing it can be when two strong women stick together and build each other up. Seriously, you guys, this friendship is legit #GOALS and I'm all kinds of jealous.
"We were actually just texting each other this morning," the tennis phenom explained when asked during an interview on Australian show The Sunday Project if she and Meghan gave each other advice about how to deal with all the drama in their lives. "We have known each other for a long time, but we really are relying on each other a lot recently."
First of all, I would pay a lot of money to see those text messages. Like, do you think they have cute nicknames for each other saved in their contacts? I bet they do. And second of all, the fact that these two support each other is just so freaking inspiring that it makes me want to rethink all of my own relationships.
Here's Meghan cheering for her friend at Wimbledon in July while she was competing in the Ladies' Singles final.
Then last week, it was Williams' turn to show up for Meghan, which she did when she took to Instagram to congratulate her bestie on the launch of her new cookbook, which features recipes from women whose lives were impacted by the June 2017 Grenfell Tower fire that killed 72 people.
"I could not be more excited about it and proud of you," Williams wrote in the caption next to a pic of the book. "It's beautiful — diversity, inclusivity, coming together in grief or joy — there is just so much love."
And speaking of love, Williams was one of the lucky few to score an invite to the royal wedding last May, which she attended with her husband Alexis Ohanian.
Here's a reminder of how amazing she looked, in case you somehow forgot:
"I felt like we were literally watching history," Williams explained during her Sunday Project interview. "And I feel like in a few years when we look back at that moment it's just going to be so historic. It's going to be something people never forget. The whole service was really wonderful, and most of all I just wanted to see my friend be happy, and I think that's what happened."
Honestly? The way these two rely on each other is such a mood and I am so here for how they always seem to have each other's backs despite living so far away from each other.
Twenty bucks says they send inspirational quotes and funny memes about each other back and forth during their free time, too.