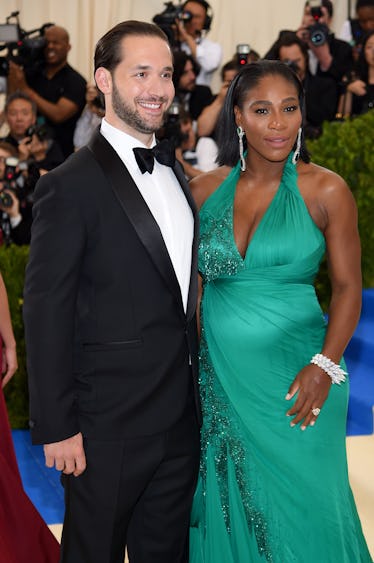 Serena Williams & Alexis Ohanian's Body Language Proves Their Love Is All Aces
Dimitrios Kambouris/Getty Images Entertainment/Getty Images
Hi! Not trying to be rude, but if you're not obsessed with the perfect couple that is Serena Williams and Alexis Ohanian, then I'm sorry — what are you doing?! The two have an epic love story, a perfect daughter, and they're basically just the ultimate power couple. So, now that I've got you on the best bandwagon ever, let's talk about Serena Williams and Alexis Ohanian's body language, shall we?
First, a quick recap of their relationship history: They met in April 2015, but it wasn't exactly love at first sight. They were staying at the same hotel in Rome, and in fact, Williams didn't even want to meet him initially. Get this: She actually had her friend tell Ohanian that there was a rat at the table he wanted to sit at because she didn't want him sitting close to her, according to Vanity Fair. But they eventually won each other over, and after a six-hour long first date in Paris (can you even?), they welcomed their daughter in September 2017, and tied the knot that November.
Williams and Ohanian clearly have a love story for the ages, but to infer whether or not their bond is still as strong as it was when they first met, I reached out to body language expert Blanca Cobb for her expert opinion. Here's what she had to say.