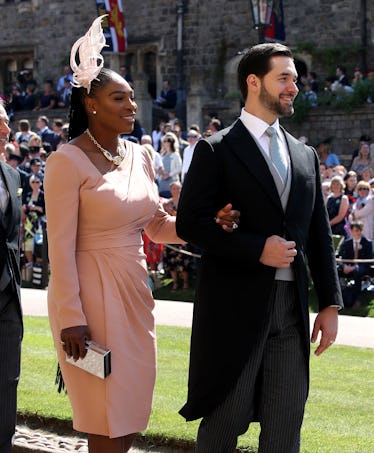 Alexis Ohanian Shared This Sweet Video To Serena Williams Before Her U.S. Open Final
WPA Pool/Getty Images Entertainment/Getty Images
Ah, Alexis Ohanian and Serena Williams. They're just too darn cute. I especially live for all the adorable gestures Ohanian makes on behalf of his lady — from buying Williams billboards to celebrate her return to tennis following the birth of their daughter to Alexis Ohanian's Instagram video for Serena Williams' U.S. Open Final. If you're not caught up on the latter, you might want to grab a tissue (or three) before I get you up to speed.
On Friday, Sept. 7, Ohanian shared a tear-jerking tribute video of Williams' road back to the tennis court ahead of the 2018 U.S. Open Finals on Sept. 8, which comes just a little over a year after Williams nearly died giving birth to their daughter, Alexis Olympia. Williams faces Naomi Osaka in finals on Saturday afternoon. He kicked off the moving tribute with a sweet message to his wife, in which he wrote:
She fought for her life, for our child, for recognition, for equal pay, for women's rights. She never gives up. She's passionate and unrelenting and the most inspiring person I know.
The video includes footage of Williams in the hospital in the days after the birth of Alexis Olympia as well as clips of the tennis star preparing for and competing in tennis matches. It also includes an interview Williams did after winning the semifinals round on Thursday, Sept. 6 as a voiceover, in which she discusses some of her challenges since returning to the court.
Wow, that is literally relationship goals. Geez, sometimes I can't even get a text back.
Literally everyone is in their feelings over the video and rushed to Twitter to share their thoughts.
The incredibly moving post comes a year after Williams suffered drastic health problems that forced her to step away from the sport. The complications started in September 2017, when she gave birth to her daughter via emergency Caesarean section after her daughter's heart rate suddenly plummeted. While she was recovering from the procedure, the tennis star suffered a pulmonary embolism, which left Williams bed-ridden for the next six weeks.
She made her highly-anticipated return to tennis in December 2017, and Ohanian has seemingly been there for her every step of the way. Even when Williams lost the Wimbledon championship back in July, he was right there cheering on his lady anyway, and it was absolutely perfect. Ohanian shared a message about the loss on his Instagram, which read:
Days after our baby girl was born, I kissed my wife goodbye before surgery and neither of us knew if she would be coming back. We just wanted her to survive—10 months later, she's in the #Wimbledon final ... @serenawilliams will be holding a trophy again soon—she's got the greatest one waiting at home for her —and our family knows she'll win many more trophies, too. She's just getting started. And I couldn't be more proud.
It goes without saying that Williams can surely win many more trophies in the months and years to come. But even if she doesn't, she's got one in Ohanian, and that's gotta be priceless.