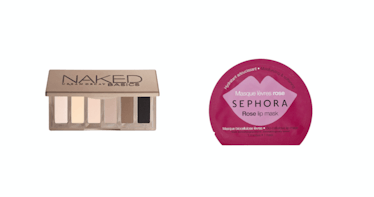 Sephora Is Selling Urban Decay Palettes For Under $20, But You Have To Act Fast
Courtesy of Sephora
O Sephora, Sephora, wherefore art thou Sephora? Because you sell all the amazing products and are constantly having mind-blowing sales, that's why. The store is a beauty lover's paradise and Sephora's Weekly Wow sale is a particularly exciting part of it all. This special event offers a well-curated selection of products for half off, and the only downside to it is that you'll have to race me to the checkout counter.
When I walk into a Sephora store, I feel a calm wash over me because I'm in such a joyful place, but I also simultaneously get a sense of anxiousness because I want everything. Minor details like my credit card limit and my checking account prevent me from actually purchasing everything I wish I could have, but a girl can browse, and sample to no end.
With the brand's Weekly Wow sale, though, you can actually snag twice as much as you normally would because the prices of your cherished wishlist items have been slashed in half. The sale is only on a small selection of goods, six products to be exact, but they're well-chosen and well worth it. Plus, as the name suggests, the sale changes each week so you can see now, buy now, and buy new again next week. Are you just dying to know what's in this week's roundup?
Wait no more, the selection is here and the wow-factor is real.
Urban Decay Naked Basics Eyeshadow Palette
Naked Urban Decay Basics, $19, Sephora
I love the full-sized Urban Decay eyeshadow palettes but they're not super travel-friendly. This six pan palette (usually $29) is my new on-the-go savior. It's small enough to fit into pretty much any purse I own and from the bright beige to the deep brown, you can create a range of day or night looks with this bad boy.
Sephora Collection Bronzer Powder in Canary Islands
Bronzer Powder, $11, Sephora
($11; sephora.com)
This shimmery, intricately designed bronzer normally goes for $17 but the Sephora gods have slashed the price down to $11 for this week only. Blend it with your highlighter for a sun-kissed sheen or even mix it with your new Urban Decay eyeshadow to add some glimmer to your lids.
First Aid Beauty Skin Rescue Blemish Control Pads
First Aid Beauty Skin Rescue Blemish Patrol Pads, $15, Sephora
All that makeup is fun and all, but any guy or gal that plays around with it should also recognize the importance of skincare. Many acne control products can be harsh on sensitive skin but First Aid Beauty is known for their gentle and effective formulas. These breakout-preventing cleansing pads would typically cost you $30, but not this week!
First Aid Beauty Hello FAB Caffeine Matcha Wake Up Wipes
First Aid Beauty Caffeine Matcha Wake Up Wipes, $8, Sephora
My only complaint about these wipes is that I don't yet have them. I eat, sleep, and breathe coffee and all things caffeine-related (well, not sleep, because that defeats the purpose of it), and these wipes are the pinnacle of my existence. Normally retailing at $15, these matcha wipes say they'll help rid you of dull, dry skin all while giving your complexion a nice pick-me-up.
Boscia Luminizing Pink Charcoal Mask
Boscia Luminizing Pink Charcoal Mask, $22, Sephora
Charcoal is all the rage right now and the only thing better than a charcoal face mask is a pink charcoal face mask. The mask really is a bright pink, not just the bottle. It boasts "detoxifying, purifying, and brightening effects," and it's a limited edition collab with Valley Cruise Press, a novelty accessories shop that you'll also want to check out.
Sephora Collection Lip Mask
Sephora Lip Mask, $2, Amazon
($2; sephora.com)
Do you put a face mask on your lips? Sheet masks have the lips cut out, but my lips need love, too! Whether you try the pink charcoal mask above or you've already got a face sheet mask on deck, add in a lip mask for extra moisturizing power.
The Sephora Weekly Wow sale products are available online and in Sephora stores while supplies last, so don't wait long to shop!