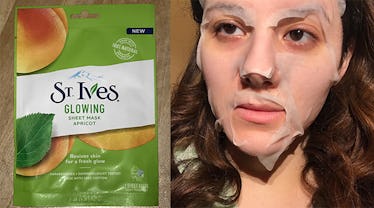 St.Ives' Apricot Scrub Just Became A Sheet Mask & This Is What It Did To My Skin
Kim Carpluk
I'm no stranger to a sensible sheet mask. In fact, I indulge in sheet masks at least one a week. When I was given the chance to test drive this new mask, it was on my face faster than you can say "apricots." My St Ives Apricot Face Mask Review proves once and for all: can a cult scrub make a killer mask? The proof is in the fruit-scented pudding.
The St. Ives Fresh Skin Apricot Face Scrub was one of the first skincare products I ever owned. I vaguely remember taking a quick makeup course at a local community center when I was in middle school and purchasing the physical exfoliator off the recommendation of the teacher. Though my memory is hazy, the dull pain I experienced during my first experience exfoliating is clear AF. I scrubbed away my makeup, dead skin cells, and nearly every blemish that adorned my pubescent and awkward face, leaving my very sensitive skin upset. Even though it's a cult-favorite product, my skin was simply too persnickety to reap its benefits.
St. Ives Fresh Skin Apricot Face Scrub, $4, Walmart
Though I left the scrub in my past along with my braces and bad haircuts, I've always remembered it fondly throughout the years. Was it the best product to be using on my aching acne-prone skin at the time? Probably not. My temperamental skin hated physical exfoliators, and has continued to hate them till this day. However, it did introduce me to the importance of a daily skincare regimen.
St. Ives Glowing Apricot Sheet Mask, $3, Target
I was thrilled to try the new St. Ives Glowing Apricot Sheet Mask. Sheet masks are relatively harmless, so I knew my sensitive skin wouldn't mind. Worst case scenario, I'd experience little results. Best case scenario, my skin would be glowing like a fluorescent ray of light delivered directly from the heavens above.
I was so excited to try my new mask that I put it on immediately after waking up. Here I am, still in pajamas, before I even cleansed my face. I was breaking out quite a bit, thanks to my period, so this sheet mask truly was put to the sensitivity test.
According to the packaging, you must cleanse your face before applying the mask. I used my Ole Henriksen Find Your Balance Oil Control Cleanser, just as I do every morning. Then, I towel-dried my face and applied the soaked cotton sheet mask to my face.
Ole Henriksen Find Your Balance Oil Cleanser, $25, Sephora
This sheet mask was tremendous. I don't have a very large face, but it's also not small by any means. There was so much extra fabric that it folded over onto itself and gave me Silence Of The Lambs Buffalo Bill vibes. "It puts the lotion, I mean... sheet mask in the basket," am I right?
Though it looked rather terrifying, the mask did smell delicious, like fresh, juicy apricots. Yum!
The mask was meant to be left on for ten minutes, but I kept it on for twenty. There were no major active exfoliating chemicals on the ingredients list, so I knew leaving it on for longer wouldn't be a detriment to my skin.
When I removed the mask after twice as long as St. Ives had recommended, I was left with a thick layer of serum on my skin. I did massage it into my skin, just as the directions had recommended, but it was more than my skin could handle. I dabbed my skin with a towel to remove the excess, and then patted my skin until it dry.
My skin did look super luminous and glowy in all the right ways. My complexion was bright and I didn't experience any major sensitivity (definitely a win). However, my skin was a little... sticky, like I had rubbed actual apricots onto my face. After I applied my moisturizer, that stickiness went away completely.
The verdict: this cult scrub does make a killer sheet mask, especially when that mask costs less than $3! It was a completely different experience than exfoliating with the scrub, but I still felt pampered by the familiar apricot scent. I was left with a glowy (not oily) complexion, and my sensitive skin didn't feel like it was being ripped from my face. Fruit for the win.