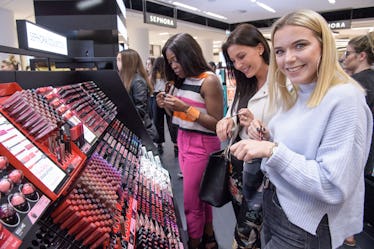 Sephora's Having A Huge Sale & You Can Snag Name Brand Products At Drugstore Prices
Thomas Lohnes/Getty Images Entertainment/Getty Images
It's time to once again to check your beauty cabinet and take note of anything that's running low, because Sephora's Weekly Wow Sale kicked off yesterday, meaning there's a whole new stock of seriously discounted items to peruse. If your mascara is within days of its last use, or if you're at the point where you're scraping traces of concealer out of the bottle with a bobby pin, hold up before you head to Walgreens. Sephora's sale deals are so good that name brand makeup actually rivals drugstore buys in cost. (No shade towards Walgreens, though, I love that place.) Treat yo'self without bankrupting yo'self.
The sale kicked off yesterday, March 8, which means you still have time to look through its 268 discounted items — yes, it's mammoth. From Urban Decay and Bite Beauty to Smashbox and Boscia, it includes a slew of cult favorite brands that are typically not financially responsible to splurge on. But seeing as discounts range up to 50 percent off, there's no better time than now to go after that palette you've been dying for or lipstick you've been wanting to test out. Skincare, brushes, fragrance, nail polish — it's all covered in the sale, too, so don't sleep on it!
Here are a few of the best deals this week, but be sure to check it out for yourself.
Major Face
If you get this three-in-one eye, lip, and face palette, you've pretty much got 80 percent of your makeup needs covered. It includes 18 shades and 11 iridescent duo-chrome transformers, meaning you can create 76 custom eyeshadow shades and 18 lipstick colors. And at $20 off of its original price, it's a steal.
Lash Out
I'm someone who wears very minimal makeup on a daily basis. I'll do a bit of spot and under eye concealer and maybe a swipe of highlight, but the main thing I focus on is mascara. This kit of Clinique's brightening Pep-Start Eye Cream, Chubby Lash Fattening Mascara (a favorite of mine!), and Take The Day Off Makeup Remover would have all of my major needs covered, and then some.
Full Spectrum
How beautiful is this set of six pastel lipgloss shades?! They scream festival season — I can't wait to try out the purple and light pink, in particular.
Face It
This limited-edition skincare set includes a complete morning and night regiment that "delivers a hydrated, glowing, fresh-looking complexion." It contains a 1-minute facial, day and night creams, an anti-pollution mist, and a hydro-boost emulsion, so if your complexion is feeling dry or dull, you might one to snag this!
Bright Eyes
Just looking at this eyeshadow palette has me dreaming of bright sunny days and, again, festival season! But to be honest, winter can be the best time to infuse some color into your life via bold makeup. This 11-shade palette boasts shimmery neutrals and more vibrant hues, meaning it'll let you create an array of different looks.
Pucker Up
Four liquid lipstick shades for $15? It doesn't get much better than that. These pigments are super creamy and boast a satin finish and range from a flirty red to a deep berry.
Brown Down
I didn't learn how much a strong brow can change your look until way too late in life. Now, I either tint or color in my eyebrows every day. I typically buy Glossier's Boy Brow, but this $5 alternative might change my habits. It's a chunky brow wax pencil that distributes the color evenly, meaning no annoying brushing is necessary.
Nailed It
Touch — not taste — the rainbow with this set of eight mini nail polishes. With a holographic purple and a few neutral shades, it's got something for everyone and every mood.