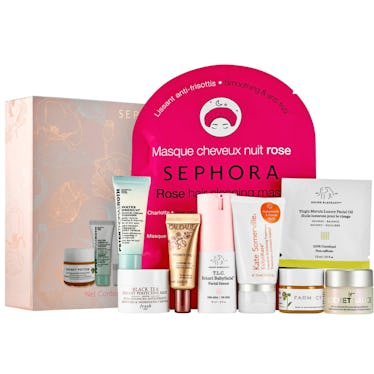 Sephora's New Bundle For Acne-Prone Skin Is Only $38 & It'll Be Gone Before You Know It
Attention, fellow acne-prone skin beauties and really all other beauties out there: Sephora has a new bundle that'll have you feeling like your skin is as healthy as a goddamn kale salad with no dressing. OK, bad comparison (I also hate kale), but seriously, your skin is gonna feel good. Sephora Favorites Power of the Petal bundle is here, and the brand has rounded up all your favorite skincare products into one super affordable package. But you better hurry and snag one fast... not because I'm probably gonna buy at least 10 for myself, but because these Favorites bundles fly off the shelves (and the site) pretty quickly.
This new Power of the Petal set is essentially a great starter kit for anyone living with acne-prone skin, because it features a whopping nine fan-favorite products from so many coveted skincare brands. From Peter Thomas Roth to Drunk Elephant to Kate Somerville, the gang's all here to cleanse your skin and make it feel healthier than ever. Also, I'm not gonna lie, the price of the kit made me scream in the best way possible. It retails for $38, when the actual value of all nine of these products is — wait for it — $124. I'm not a mathematician (please don't make me do the math), but $38 seems like a pretty small fraction of $124.
According to Sephora's website, the Power of the Petal kit ($38, sephora.com) covers pretty much every skin type — normal, oily, dry, sensitive, combination, you name it! — and is perfect for combating dry skin (LOL @ winter), dullness, and even reducing wrinkles and fine lines (LOL @ stress). The wide variety of products offered also allows you to have your daytime skincare routine and your nighttime routine totally covered. Seriously, this kit will probably bring me the closest I'll ever get to having my life together, and I'm pumped about it.
The specific products featured in Power of the Petal really do cover all your major skincare categories, as well as some products meant for ~relaxation~ too. With each purchase, you'll find must-haves like Caudalie Premier Cru the Eye Cream, Drunk Elephant Virgin Marula Luxury Facial Oil, Kate Somerville ExfoliKate® Intensive Exfoliating Treatment, Fresh Black Tea Instant Perfecting Mask®, Peter Thomas Roth Water Drench Cleanser, Drunk Elephant T.L.C. Sukari Babyfacial™, Farmacy Honey Potion Renewing Antioxidant Hydration Mask, IT Cosmetics Secret Sauce Miraculous Anti-Aging Moisturizer, and Sephora Collection Hair Sleeping Mask in Rose.
Another plus for this bundle that you may not realize is a plus? The kit features smaller sample sizes of the products I just mentioned, so you can try it out first if you've never used it before. Then, if you love it, you can splurge on the full size. After all, tax season is over, and what are tax returns for anyway? (The correct answer is for splurging on skincare, thank you very much.)
Oh, and I meant it when I said you really shouldn't waste any time adding this Favorites bundle to your cart. Obviously, it's a great deal, but be warned: Another one of the recent Sephora Favorites kits, the Sun Safety Kit, sold out online not long after it dropped. The kit included 16 different sunscreens designed to protect all parts of your skin — yes, even your lips — and retailed for $36, with a $161 value. Needless to say, if Sephora shoppers are as obsessed with skincare as they are with sunscreen, Power of the Petal probably won't be around long.
So head over to Sephora.com (or in store) to snag Power of the Petal before it's too late. I mean, nourished, radiant, and clean skin for less than $40? Sign me TF up.