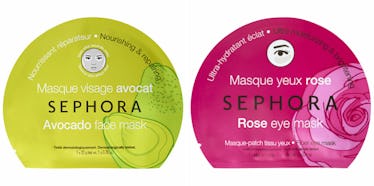 Sephora Is Giving Away Free Sheet Masks This Weekend & My Pores Are Smiling
Sephora
I've been living in Bogotá, Colombia, for the past three weeks, which is situated at an altitude of 2,640 meters (8,660 feet) above sea level. This means that along with me being constantly out of breath, my skin is flaking like a December blizzard. Sephora's free sheet mask giveaway could not have come at a better time — my complexion needs some serious rehabbing.
Free sheet masks, you ask?! Has Christmas come early?! On Sunday, May 20, if you buy three Sephora Collection Eye ($5) or Face Masks ($6), you will get a fourth one completely gratis. Seeing as I have friends visiting me in June in Mexico City, my next travel stop, I will absolutely be asking them (read: bribing them) to stock up on said masks and bring them to me. That's what BFFs are for, right? The only caveat to the deal is that you can only get a free face mask is you buy three face masks, or a free eye mask if you buy three eye masks — you can't mix and match. Seeing as my under eyes look like slightly dehydrated purple grapes at the moment (not quite raisin status but well on their way), I think four of each mask type would do me good.
If you're waking up at the crack of dawn Saturday to watch the royal wedding, treat yourself to this giveaway on Sunday. There's no amount of lack of sleep that a good relaxing mask session can't help fix. Sephora Collection's mask offerings include eight different formulas for each type — here are my favorite (and needed) picks for each.
Face
This aloe vera-infused option is hands-down my first pick for its moisturizing and soothing qualities. Along with returning my face to a normal hydration level, it also claims that it will visibly plump skin and leave it looking smoother, healthier, and glowier. Does Sephora ship to Colombia? Because I need this stat.
A pearl face mask sounds luxurious AF so if you can't afford a facial at a high-end spa, snag one of these, close your eyes, and pretend you're at the Ritz. Meant to perfect and brighten, this product is made with natural-origin pearl, which will help your skin become luminous while minimizing irregularities.
Coconut is one of my favorite flavors and scents and evidently, it helps to nourish and sooth skin when used in beauty products. This mask will help reduce redness and tight skin... and it will smell like a tropical vacation.
Because what would a coconut product be without its pineapple counterpart? This mask helps to perfect pores and even skin texture.
Eyes
Every time a character in a movie goes to a spa and gets an avocado mask I think it looks good enough to eat. Literally. This eye mask "offers intense nutrition for a supple, soothed, and comforted eye contour," according to Sephora. Cool, what but about its flavor?
Algae is a wild, wonderful thing when it comes to beauty and products infused with the stuff, and it has consistently helped my skin immensely. This eye mask is meant to tone and detoxify in order to eliminate dulling impurities. Skin as fresh as the ocean? Yes, please!
Everyone knows that green tea has detoxifying superpowers thanks to its high content of antioxidants. This eye mask will relax, refresh, and smooth, resulting in a fresh and bright look.
Rose is another ingredient that has completely changed my skin, specifically hydrating rosewater spray. This mask will intensely hydrate your under eyes so if you've got crinkly bags like mine, this might be for you.