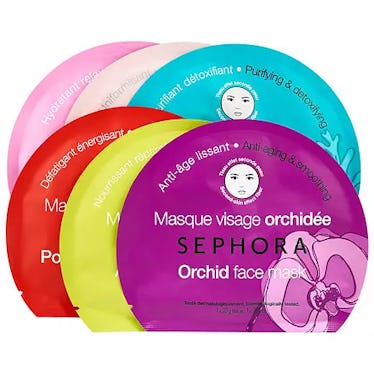 Sephora Is Giving Away Face Masks For Free This Weekend, No Strings Attached
Sephora
In three days the final weekend of July will be upon us. Time flies, no?! And to mark the end of the much-loved summer month, one of your favorite beauty retailers is handing out ace freebies with no strings attached. Sephora's free face mask giveaway is generous to a baffling degree and makes for the perfect way to usher in another new month.
Unlike most giveaways, this one isn't shadowed by any caveats or stipulations. It isn't a BOGO deal, nor does it require you to sign up for any sort of loyalty card. In fact, you don't have to make any purchase at all to reap its reward — it's a true straightforward giveaway. That's a rare thing in this day and age!
Head into any one of Sephora's brick and mortar stores this weekend, July 27 through 29, and walk out with a Sephora Collection face mask completely gratis. Why is the retailer doing this? Who knows. I'm not going to ask questions and simply revel in the awesomeness of it all instead. If you haven't tried a Sephora Collection face mask, then you're in for a treat. Available in 10 different formulas, from the moisturizing and brightening Rose to the nourishing and balancing Honey, each one provides your skin with a powerful punch of goodness depending on what it needs. All of the masks are formulated without parabens, sulfates, or phthalates, so if you're into clean beauty they're an excellent product for you. The masks typically retail for $6 a piece so the fact that you can score one for $0 is pretty awesome.
Check out a few of the other masks below and make your decision on which one you want to walk out with in advance.
Green Tea
If you're a green tea drinker, consider also intaking it in face mask form. This mask will help mattify and soothe aggravated skin, so if your complexion is prone to breakouts you might want to give it a try. It'll also minimize shine and reduce redness. Sounds refreshing, no?
Pearl
Natural-origin pearl is actually used inside of this mask so you know it'll leave you with an almost unearthly glow. The pearl creates high luminosity while also minimizing irregularities like patchiness and redness, leaving you with your brightest skin ever.
Algae
Spending a day at the beach and diving into ocean water does wonders for my scarred and acne-prone skin, so this algae-infused mask is definitely what I'll be going for this weekend. It removes impurities than can cause a dull complexion and will leave you with skin that feels fresh, cleansed, and radiant.
Pineapple
Hopefully this mask smells as good as it sounds! It'll help even out your skin's tone and texture and will also shrink your pores. Who knew such a delicious fruit could be a miracle mask ingredient?
Lotus
The name Lotus Mask in itself sounds soothing, which is exactly what it'll do for your skin. It will also help infuse it with extreme moisture.