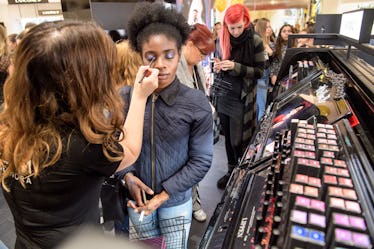 Sephora Is Kicking Off A Massive Sale This Weekend, So Here's How To Get In On It
Thomas Lohnes/Getty Images Entertainment/Getty Images
The seasons are soon changing and that means your skincare routine and go-to makeup look probably will too. Berry lips, ultra moisturizing serums, and jewel tone palettes will be the autumnal products to snag and when better to do so than during Sephora's Beauty Insider Appreciation Sale? It's not often that you can shop every single product at Sephora with a hefty discount and it's not often that you have an excuse to forgo refilling your drugstore mascara or face wash. Carpe diem! Slash seize the sale!
As you've probably deduced, this sale, which runs between August 24 and September 3, is available only to Sephora Beauty Insiders. Rouge members (the top tier cardholders) will get exclusive first access on the 24 and will get a 20 percent discount both in stores and online by using the code YESROUGE. VIB members will be able to start shopping the sale on the 30 and they'll get 15 percent off items in store and online with the code YESVIB. And finally, Beauty Insiders will be able to shop with a 10 percent discount by using the code YESINSIDER.
Pretty awesome, right? While it's literally impossible to pick eight favorite items Sephora sells (I probably have 100 favorites), below are buys that will give you an awesome head start on all of your fall beauty needs. Happy shopping!
That's Intense
Like I said, bring on the shimmery jewel tones! I love experimenting with a darker and more dramatic daytime eye during the fall and winter and this palette would make the color combinations endless.
Scent Story
New season, new fragrance—why not opt for something a bit earthy and woody to match cozy feel feels? This perfume oil features sandalwood and cedarwood with hints of a spicy cinnamon nutmeg complex and an earthy vetiver note. Are you ready to snuggle up to a fire simply from reading that?
Give Face
Because if Fenty foundation is EVER on sale, you buy it! Period. (Also because it provides incredible long wear coverage and revolutionized the beauty industry.)
Magic Wand
Like I said, dramatic eyebrows and dark lips! This volumizing eyebrow gel will help keep your arches looking their best.
The Mask
Another weapon against dry, flaky skin, this overnight mask contains glacial proteins and desert plant to leave skin smoother, suppler, softer, and intensely hydrated by morning.
Glow Up
Months of gray skies can leave skin looking less than sun kissed. Milk's bronzer stick will help countour while also adding a touch of radiance.