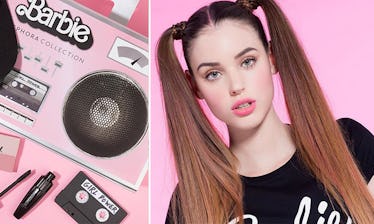 Sephora Is Dropping Barbie Makeup & I Need A Pink Convertible To Drive Away With It
sephoracollection on Instagram
I'm just going to come out and say it: How has this not happened sooner? The Sephora Barbie makeup collection is the lineup of products I didn't know I needed, but now that it's a confirmed thing, I'm not sure why somebody didn't think of this years ago.
So many children (girls and boys) played with Barbies growing up, and with beauty brands collaborating with childhood favorites like My Little Pony, Power Rangers, Beauty and the Beast, Hello Kitty, and even The Simpsons, it only makes sense to team up with the most obvious of them all. C'mon Barbie, let's go party.
While the Sephora Collection x Barbie is sure to be a fan favorite, it's not as in-your-face girly as one might expect. Think edgy '80s Barbie, not so much Malibu Barbie. For starters, the brand went with a soft millennial-ish pink rather than the hot pink you might associate with the doll, and there aren't any traces of Barbie's signature knickknacks anywhere. Put it this way: Instead of being packaged in a Barbie dream house, a cute miniature vanity setup, or in the trunk of a pink convertible, the collection is packed into a faux boom box. While it is pink, it's definitely the more unexpected option.
Judging from the captions on Sephora's Instagram posts, the collection is actually much more B-girl Barbie than anything else. In one post, they say, "Our friendly beauty battle is on! Let's hit the streets babes 😘 #sephoracollectionxbarbie#sephoracollection#dancebattle" and another says "Are you ready to feel the beat? 🔊#staytuned#coolab#pumpitup#sephoracollection music #pump."
So what's in the pink boom box? Sephora Collection has been slowly teasing the contents of the special-edition packaging with cryptic stop-motion videos. The brand first teased the new Barbie collection four days ago with this fun and mysterious video on Instagram, with the caption, "Guess who's invited for a beauty battle? 🎤 #comingsoon#coolab#sephoracollection."
Then on March 19, the brand posted a flatlay of the limited-edition Sephora Collection x Barbie products, which include the brand's new Outrageous Length Mascara, Stylographic Felt Liner, and a new Miniature Palette. And there's one more thing: an exclusive Barbie baseball hat. If there's anything that gets me more excited than makeup, it's merch.
Here's how the products are packaged inside the boom box. Sephora Collection posted this sneak peak on Instagram with the caption, "The best makeup products in a iconic 80s boom box! 🙌 Available online very soon or ready to shop individually if you click in our bio👆#sephoracollectionxbarbie#coolab#sephoracollection." "Very soon," huh? How soon?
Sephora hasn't revealed an exact drop date yet, but it seems you can already purchase everything individually on its site. However, none of the makeup items are actually Barbie branded (kind of a bummer), so if you're in it for Barbie, the boom box is what you really want.
Here's a closer look at the products that can be found inside. Though they're not splattered in a Barbie print or packaged in hot pink tubes, they're still super cute. The eyes on this Miniature Palette ($10, Sephora) are even reminiscent of Barbie's. Again, in that less-obvious sort of way, but still adorable.
Miniature Palette, $10, Sephora
The only thing that seems to be missing is a really good hot pink lipstick. Barbie would never leave her dream house without at least having one tucked away in her tiny tote, so why should we? But I'm holding out hope that these campaign images (of women wearing hot pink lipstick!) are a subliminal message that one is coming. Maybe Sephora Collection is just waiting for the right moment to make our hearts skip a beat?
Now that I've completely built up this launch, it seems like a good time to break some bad news. The Sephora Collection x Barbie kit will not be available in North America. Ugh, I know! If you have any friends living abroad, now might be a great time to call them up.
"The limited edition #sephoracollectionxbarbie kit will be available from next week online and in some stores," Sephora Collections shared in a Instagram caption. Countries that get to shop the limited-edition collaboration in stores are France, Spain, Italy, Czech Republic, Portugal, Singapore, Greece, Romania, Thailand, Germany, and Switzerland. Sephora Collection also added it would cost "around 30 euros, depending on your country!" For us in the United States, that would be around $37.
Needless to say, I'll be keeping my eyes open for that drop date (next week!) and my wallet ready to snag the Sephora Collection x Barbie kit before it sells out.