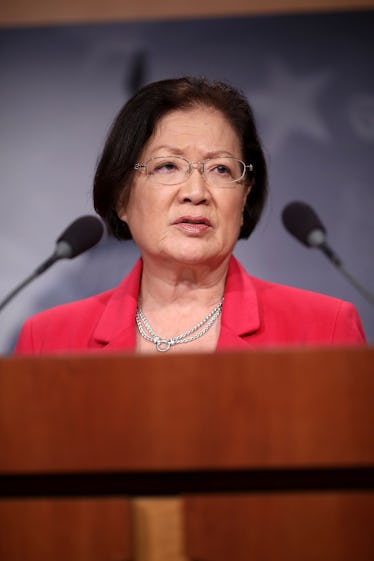 This Senator Is Asking Court Nominees A Very Specific Question & It's So Important
Chip Somodevilla/Getty Images News/Getty Images
There was just another judicial nomination hearing going on in Congress on Wednesday, Jan. 10. Or at least, that's what it was billed as — until senators began asking the nominee about sexual harassment cases. Several senators pushed the nominee — U.S. District Judge Kurt Engelhardt, who Donald Trump nominated for the U.S. Court of Appeals' Fifth Circuit — about his decisions in previous cases around gender discrimination and sexual harassment. But one senator in particular, Mazie Hirono of Hawaii, took it a step further, asking Engelhardt directly if he had ever committed actions that constitute harassment. (Engelhardt said he had not.) In a tweet, Senator Hirono explained she's asking nominees about sexual harassment from here on out.
"We all have a responsibility to take action to stop sexual harassment and assault, and create lasting cultural change," Hirono said in a statement sent to Elite Daily. "This means keeping this issue on the front burner. Women have endured this behavior since time immemorial, and this line of questioning is a step I can take as a U.S. Senator to hold accountable nominees who will be in positions of power."
This was a point that Hirono made during her line of questioning on Wednesday:
"As you know, women and men all across the country have been speaking up about their experiences with sexual assault and harassment. It started in Hollywood, but we know that it occurs in many other settings," she said, mentioning that Supreme Court Chief Justice John Roberts announced a plan to respond to harassment in the judiciary. "To ensure the fitness of nominees for elected life-time appointments to the federal bench, I would like to ask you two questions. First, since you became a legal adult, have you ever made unwanted requests for sexual favors or committed any verbal or physical harassment or assault of a sexual nature?"
After Engelhardt said no, she asked her second question. "Have you ever faced discipline or entered into a settlement related to this kind of conduct?"
As the nation grapples with a reckoning on abuses of power by men, questions like these are increasingly relevant — and, clearly, necessary. Hirono plans to ask nominees these questions under oath, where they are legally bound to tell the truth about their behavior.
It's easy to see why asking this question upfront is so vital to a functioning democracy. Over the past few months, a handful of politicians — including members of Congress — have been accused of sexual misconduct. Several of these men across the nation have resigned or retired from their positions, including Senator Al Franken and Congressman Blake Farenthold. (Franken denied the overall veracity of accusations against him, and Farenthold called allegations of sexual harassment "false.")
At the end of the day, on top of social and emotional effects, these instances create workplace disruptions. Wouldn't it be a lot nicer if we could all just do our work without having to worry about replacing a colleague? (Yes, generally, life would be a lot better if men could just not harass and assault women, both in and out of the workplace.) Hirono's new line of questioning is at least a small measure to attempt to limit both those personnel disruptions and, potentially, future instances of harassment.
Like Hirono said, the court system is far from immune to issues of sexual harassment, assault, and discrimination, as Chief Justice Roberts noted. The most famous instance of this were the allegations of sexual harassment made by Anita Hill against Clarence Thomas during his Supreme Court nomination process in the early '90s. (Thomas denied the allegations.) That highly-publicized case is largely seen as a turning point for discussions of sexual harassment in the workplace — and led to a wave of women entering politics, having seen how heavily male the Congress was during hearings.
"Yesterday, the nominee answered my questions and that was that. And that is how it should be," Hirono said in her statement. "I want nominees who come before me in the Senate to know that these questions are about to become normal."