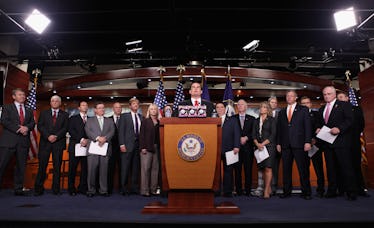 This Texas Congressman Is Saying Goodbye To Reelection After Sexual Harassment Claims
Chip Somodevilla/Getty Images News/Getty Images
On Thursday, Dec. 14, it was announced that Texas Congressman Blake Farenthold will not be seeking reelection in 2018. This announcement, which the congressman made in a video posted to Facebook, follows calls for Farenthold to resign due to allegations of sexual harassment, including a former staff member going public with allegations and a 2014 sexual harassment settlement that was dug up. On Dec. 1, the House Ethics Committee launched an investigation into Farenthold's $84,000 settlement in 2014 with Lauren Greene, his former staffer who sued for alleged gender discrimination and sexual harassment in the workplace.
In the Facebook video, Farenthold called Greene's allegations "false," although he added that he "allowed a workplace culture in my office that was too permissive and decidedly unprofessional." This included "angry outbursts and too often a failure to treat people with the respect that they deserved," he said.
"There've been so many [allegations], I don't know what all is going on," Farenthold told reporters on Thursday, according to NPR. Elite Daily reached out to his office for comment on the allegations of sexual harassment and bullying but did not hear back at time of publication.
In a statement on Dec. 1, Farenthold denied Greene's allegations, saying he "neither confirmed nor denied" his involvement in the settlement. A joint statement from both Greene and Farenthold obtained by Politico said "Defendant disagrees strongly with the Plaintiff's allegations in the Complaint, and Congressman Farenthold adamantly denies that he engaged in any wrongdoing."
In the 2014 settlement, Greene alleged that a staffer told her that Farenthold had "sexual fantasies" and "wet dreams" about her, according to Politico. Greene claimed in a suit that Farenthold fired her when she brought up her complaints, according to The New York Times. While she did bring the case to a U.S. court in Washington, it was dropped when they reached the $84,000 settlement. After the settlement, the House Ethics Committee never reviewed the case.
Michael Rekola, Farenthold's communications director in 2015, provided his own allegations of Farenthold's hostile work environment and verbal abuse to the House Ethics Committee, CNN reported on Thursday, Dec. 14. Elite Daily reached out to Farenthold's office for comment on Rekola's allegations, but did not hear back at time of publication.
Rekola, one of the few male staffers to speak up about sexual misconduct in politics, provided CNN with detailed allegations of Farenthold's abusive behavior and anger issues. One graphic claim Rekola gave was about a comment Farenthold made about Rekola's wife before their wedding day, which Farenthold claims is false. The former staffer alleged that Farenthold said, "Better have your fiancée blow you before she walks down the aisle — it will be the last time." He then allegedly commented on whether the bride-to-be could wear white or not, making an inappropriate joke about purity and premarital sex.
Rekola told CNN that working for Farenthold caused him psychological and physical distress, which at one point resulted in vomiting daily and pursuing medical treatment. Rekola referred to 2015 as the "darkest period in his life."
Farenthold's anger and alleged volatile behavior was partially a result of the pressure around his sexual harassment settlement with Greene, his former aide in 2014, according to Rekola. Rekola claimed that another former 2015 staffer, Elizabeth Peace, confirmed that Farenthold regularly called his staffers "f*cktards." Peace also corroborated Farenthold's comments about Rekola's wife, saying she and "every staffer in that area heard it. It was the most shocking thing I'd heard him say at that point."
Farenthold released a statement denying the comments about Rekola's wife pre-wedding day, however he acknowledged calling his staffer "f*cktards" "in jest, not in anger." He went on to say, "In hindsight, I admit it wasn't appropriate."
Another aide claimed that Farenthold's chief of staff, Bob Haueter, exercised gender bias in the workplace and treated female staffers differently, according to the New York Times. However, a review found no gender bias in the workplace, according to Farenthold's communications director, Stacey Daniels. Elite Daily reached out to the office for comment on these allegations, but did not hear back at time of publication.
The newly public allegations against Farenthold are a timely reminder that a tidal wave of sexual harassment claims is flooding Washington with great momentum. The 2018 midterm elections will surely be affected by the growing number of sexual misconduct allegations, especially if Congressmen and state representatives continue to step down or drop reelection bids in light of their alleged "dirty laundry" being aired. As a result, the midterm elections might usher in a new group of faces to run for Congress, hopefully, ones that haven't faced such allegations.