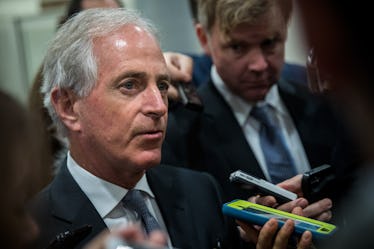 A Republican Senator Fires Back At Trump: "An Utterly Untruthful President"
Drew Angerer/Getty Images News/Getty Images
President Donald Trump's feud with top GOP lawmakers has only continued to escalate after Sen. Bob Corker (R-TN) had a thing or two to say about the president on morning shows. The senator's comments on Tuesday, Oct. 24 drew the president's retaliation, but Corker fired back at Trump. This is the latest chapter of their increasingly unfriendly history.
Responding to Trump's tweets with one of his own on Tuesday, Corker wrote,
Same untruths from an utterly untruthful president. #AlertTheDaycareStaff
The terse but defiant statement came after Trump tweeted about Corker following his comments on Good Morning America and the Today show regarding the tax plan and the president. The morning show appearances came before the president is slated to attend his first policy luncheon with Republican senators while they work on the tax plan, the Washington Post reports.
GMA host George Stephanopoulos asked Corker if he thinks the president has what it takes to tackle tax reform, Corker said,
You know, I haven't seen that yet. ... What I hope is going to happen is the president will leave this effort, if you will, to the tax-writing committees, let them do their work and not begin taking things off the table that ought to be debated in these committees at the proper time.
On the Today show Tuesday, Corker was asked if Trump should stay out of the way while committees tackle the work of rewriting the tax code, saying,
Hopefully the White House will step aside and let that occur in a normal proccess.. There's a lot of work to be done. ... I do look at these things as more of a photo op.
Corker has been openly critical about the president's impulsive behavior, describing the White House as an "adult day care" and expressing concern for the nation's security given the escalating tensions with North Korea.
Today show hosts asked followed up on those sentiments. When asked if he thought the president was a threat to national security, he said,
I think that there are people around him who work in an effort to contain him.
The host asked if Corker was saying the president needed to be contained. He replied,
I do think when you have the kind of issue we're dealing with in North Korea ... when you send out tweets into the region to raise tensions ... when you kneecap [the diplomacy] effort, you move our country into a binary choice, which could lead to a world war.
Corker isn't the only GOP lawmakers who has publicly criticized the president in such strong terms. A whole host of Republican senators called out Trump's milquetoast response to Charlottesville. Sen. John McCain (R-AZ) has criticized him on everything from his Syria policy to his transgender military policy, and the president has made some pretty distasteful remarks about the Arizona senator.
But in general, Corker, a veteran and well-respected senator, has broken ranks with the vast majority of the GOP by lambasting the president. Speaking about why he's done so while many of his GOP colleagues have kept quiet, he said,
I'm expressing what I know to be sincere concern ... This is the role that I believe I should play for the good of our country, and for the good of the world, really.
The Tennessee senator has said he won't be running for reelection in 2018. But the knowledge that Corker's presence is temporary hasn't seemed to stop Trump for putting up his fists. At about 8 a.m ET, Trump sent a series of tweets calling out Corker:
Per the Post, Corker's office has said that Trump did in fact endorse him, and even after he announced he wouldn't be running for re-election, continued to press him to reconsider.
After 10 a.m. ET, Trump was still tweeting about the senator.
The morning spat between the two will almost certainly make for an awkward lunch, but that's another problem.