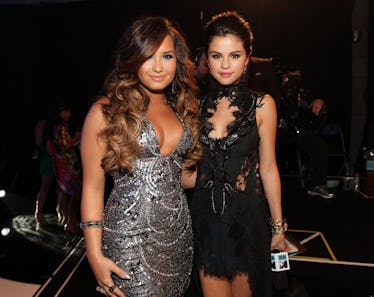 Selena Gomez Spoke Out About Demi Lovato's Reported Overdose For The First Time
Christopher Polk/Getty Images Entertainment/Getty Images
On July 24, singer Demi Lovato was reportedly hospitalized after a reported overdose, according to TMZ and Us Weekly. While Lovato is reportedly currently in recovery, it's clear that both fans and those close to the "Tell Me You Love Me" singer have been keeping her in their thoughts. One person, in particular, is Lovato's childhood friend and fellow Disney alum pop star Selena Gomez. And now, fans just got Selena Gomez's response to Demi Lovato's reported overdose, and it is beyond sad.
In a statement shared with Elite Daily by email on July 24, a rep for Lovato gave a statement that read:
Demi is awake and with her family who want to express thanks to everyone for the love, prayers and support. Some of the information being reported is incorrect and they respectfully ask for privacy and not speculation as her health and recovery is the most important thing right now.
And now, in an interview with Elle magazine, friend Selena Gomez has broken her silence surrounding Lovato's reported hospitalization, letting the public know that she did reach out to her good friend, just not in the spotlight.
"All I'm saying is, I reached out personally," Gomez told the publication. "I didn't do a public thing. I didn't want to. I… I love her. I've known her since I was seven. So… it's… that's what I'll say."
While Selena has remained relatively silent on the matter, her mom, Mandy Teefey, made a public statement shortly after Lovato's reported hospitalization, taking to Instagram to post a throwback photo of the two friends. "This was exactly 10 yrs ago at S, Sweet 16," she wrote. "@ddlovato we love you. The world is a better place because of these infectious smiles. My heart hurts."
Lovato's reported overdose came just one month after she released her song, "Sober," which seemingly chronicles her emotions about relapsing after six years of staying sober. In Lovato's lyrics, she apologizes to the people she loves for seemingly being unable to maintain sobriety. She sings:
Mama, I'm so sorry I'm not sober anymore / And daddy please forgive me for the drinks spilled on the floor / And I'm sorry for the fans I lost who watched me fall again / I wanna be a role model, but I'm only human
Sadly, Lovato is no stranger to struggling with substance abuse, and has openly talked about seeking treatment on multiple occasions. According to People, Lovato reportedly sought treatment back in 2011 for bipolar disorder, self-harm, and addiction. Unfortunately, though, she reportedly relapsed, and stayed at a sober living facility for a year, maintaining her sobriety from 2012 until 2018.
It's incredibly sad to see someone with so much talent and so much love surrounding her to go through something like this, and on Sunday, Aug. 5, Demi Lovato spoke about her hospitalization for the first time in an emotional and heartfelt Instagram post. She wrote,
I have always been transparent about my journey with addiction. What I've learned is that this illness is not something that disappears or fades with time. It is something I must continue to overcome and have not done yet. I want to thank God for keeping me alive and well. To my fans, I am forever grateful for all of your love and support throughout this past week and beyond. Your positive thoughts and prayers have helped me navigate through this difficult time. I want to thank my family, my team, and the staff at Cedars-Sinai who have been by side this entire time. Without them I wouldn't be here writing this letter to all of you.
She continued, letting her fans know that she has to dedicate her time to "heal" and put all of her efforts into maintaining her sobriety:
I now need time to heal and focus on my sobriety and road to recovery. The love you have all shown me will never be forgotten and I look forward to the day where I can say I came out on the other side. I will keep fighting.
Demi Lovato has a support system of family and friends who will help her on her road to recovery. She's got the heart of a fighter, and it's clear that no matter what, those who love her will always have her back.
If you or someone you know needs help with substance abuse issues, you can reach out to the Substance Abuse and Mental Health Services Administration (SAMHSA) National Helpline at 1-800-662-HELP (4357).