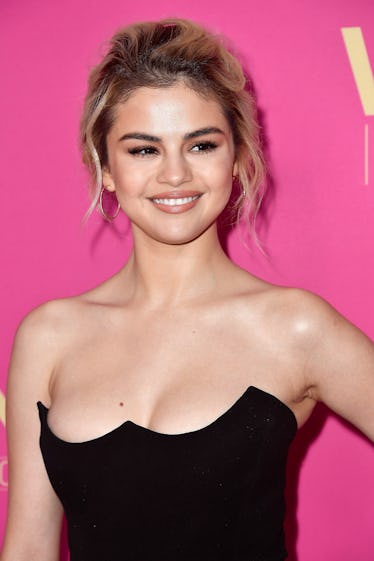 Selena Gomez Just Dropped A New Song & The Lyrics Are So Revealing
Frazer Harrison/Getty Images Entertainment/Getty Images
I feel like summertime is synonymous with Selena Gomez. This time last year it was all about "Bad Liar," "Fetish," and her relationship with The Weeknd. This year, it's all about her new song called "Back To You," her on-again, off-again relationship with Justin Bieber, and as usual, her awesome hair. Gomez teased the track off the 13 Reasons Why soundtrack at the end of April in her usual hype fashion. Now that it's here, fans think Selena Gomez's "Back To You" lyrics are fire.
When it comes to Gomez's music, it seems she always packs her songs with innuendo. Every time a new song drops, fans go crazy crafting think-piece after think-piece on who and what she might be referencing. In early April, an insider told Hollywood Life Gomez is writing about both her relationships with The Weeknd and her relationship with Justin Bieber. If that's true, fans are sure to go nuts reading into the "Back To You" lyrics.
The song dropped on Wednesday, May 10, at noon ET, and is sooo catchy!
The lyrics go like this:
[Verse 1] Took you like a shot / Thought that I could chase you with the cold evening / Let a couple years water down how I'm feeling about you (feeling about you) / And every time we talk / Every single word builds up to this moment / And I gotta convince myself I don't want it, even though I do (even though I do)
[Chorus] You could break my heart in two / But when it heals, it beats for you / I know its forward but it's true / I wanna hold you when I'm not supposed to / When I'm lying close to someone else / You're stuck in my head and I can't get you out of it / If I could do it all again / I know I'd go back to you / I know I'd go back to youI know I'd go back to you
[Verse 2] I never got it right / Playing and re-playing old conversations / Overthinking every word and I hate it / 'Cause it's not me ('Cause it's not me) / And what's the point of hiding / And everybody knows we got unfinished business / And I'd regret it if I didn't say this isn't what it could be (isn't what it could be)
The source told Hollywood Life, "She is working on ideas with her writers for songs about breakups and makeups and all about her ups and downs with Justin and The Weeknd."
Fans also know Gomez took a pronounced "fame break" in March after a trying year. Even with her music hits, Gomez suffered a kidney transplant, conflict with her mother, plus all of that media commentary on her romance life. At the time, a source explained to Entertainment Tonight that Gomez needed a moment to catch her breath. The insider claimed,
Selena is very delicate; her 'comeback' to the spotlight has been tough — especially with the interest in her personal life with Justin and her mother. She is taking time to herself. This is not the first time she has done this.
The source added, "She needs to figure out how to live the life she wants in the spotlight — if that's even possible."
Well, here's her next shot. If she was hiding from the limelight before, she's certainly back now. With new hair and a new tune, all eyes can't help but turn to Gomez.
She recently shared with POPSUGAR she's not sure when her next full album will be out. Apparently, she's been working on it for two and a half years. "I don't know when the right moment is. And I really mean that, not in a way that I'm trying to be mysterious or cool," she said. "It's hard to have a voice and make sure that your content means something."
Selena, girl. Your music always means something. I just can't wait to see what comes after this!