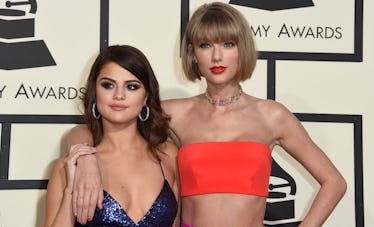 Selena Gomez Listened To Taylor Swift's 'Reputation' Album & Had The Best Reaction
VALERIE MACON/AFP/Getty Images
While anticipation is building for the release of Taylor Swift's new album, Reputation, you can bet that some in her inner circle have already had the privilege of hearing it. Selena Gomez's response to Taylor Swift's Reputation album clued fans into what we can expect to hear. Bottom line: you all are going to love it.
It's a good thing Gomez was interviewed about her new song "Wolves" because we got a great little piece of intel about Swift's album too. Honestly, this little bit of information will help hold us over until Reputation drops.
So? Yes, let's get to it. During an interview with Zane Lowe for Beats Radio 1, Gomez was asked: "Have you heard the Taylor album? Is it good, is it incredible?"
Rather than simply answering "yes," because obviously it's going to be incredible, Gomez gave some hints about Swift's album content and it sounds like it's going to be freaking amazing.
Gomez answered: "Would you expect any less?" She added:
It's so inspiring. It's really cool to surround yourself with people and be involved with people who are aspiring and changing the way that they dictate what they love, whether it's acting or music, and she's one of those people who will continue to do that.
Bless her and her friendship with Swift because this is such a glowing review, I can't handle it. But wait, there's just a little bit more.
She was asked specifically if Swift had personally played the record for her and Gomez replied:
Yeah! For sure. I obviously love her so much and I want her to do what she does and she's killing it and it's everything you would want and more. So, [I'm] very proud, and obviously [a] major fan.
There's so much to dig into here: first up, how much Gomez loves and respects and is proud of Swift just comes shining through so much. Second, Swift is "killing it" with this new album, which I think all fans can agree would be the case, but the addition of Gomez's statement: "it's everything you would want and more" really takes things to another level. I can only expect that Swift kicks things up a notch with Reputation and fans will not be disappointed.
It wasn't all about Swift, however — after all, Gomez has a new song she dropped on Wednesday, Oct. 25, "Wolves," which begged the question about when she'll have a new album out.
Gomez explained: "I don't want to rush things. A lot of people find themselves in time pockets" for dropping and promoting an album. She added: "I was just like, 'no, I'm going to release the songs I want to release,' just take my time. I was also going through stuff personally. I just wanted to take care of myself."
She added:
To be honest, I feel like I have two albums already completed. I'm wanting to figure it out. It's a lot sooner than I think people anticipate but I also want to call the shots. I want it to be good. I want it to be ready. I don't want to do anything that's forced. It'll be soon, I'm definitely stoked about putting a piece together.
Gomez also talked more about having a break to deal with personal stuff and clear her head and how having control has impacted her music, explaining: "For me this year I wanted to find more of a different place. I wanted my music to be a lot more meaningful. That's always what I've searched for."
We all still have a bit of a wait for Swift's new album, but a glowing review from a bestie is enough to go on for now.
Check out the entire Gen Why series and other videos on Facebook and the Bustle app across Apple TV, Roku, and Amazon Fire TV.