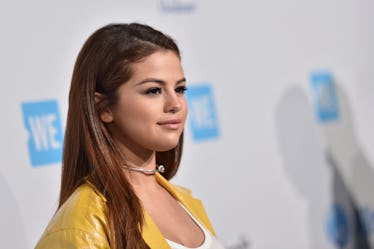 Selena Gomez Is Giving Away Her "Back To You" Dress On IG, So Slide Into Her DMs
Mike Windle/Getty Images Entertainment/Getty Images
If you're a fan of Selena Gomez, you're probably one of a zillion people who are envious of her snatched makeup, her luxuriant hair, and her fabulous wardrobe. The 26-year-old singer often turns heads with her fashion choices from her uber chic accessories to her daring lipstick colors, and now she's giving her fans a chance to do the same. (I stan a selfless queen!) Selena Gomez is giving away her clothes to fans on Instagram, so you'd better hurry up and get over to her page while the items are still available.
Gomez announced the news through an Instagram Story shared to her account on Friday, Sept. 21. Elite Daily reached out to Gomez's team to see if the items were available as of Sept. 22, but did not hear back by the time of publication. In the video, she points out a sparkly, sequined mini dress that features bright green-feathered trimming, showing off the front and the back of the stunning gown.
She then said,
This is my dress that I wore for the 'Back to You' music video, and I kind of want to give it away to someone. So if you want this dress, let me know cause I will just send it along to you cause it has no use being in my closet whatsoever.
Um, EVERYONE wants this dress. Just look at it:
She's also offering up this gorgeous number: a violet romper with sheer cut-outs and dazzling embellishments. And yes, it comes with the adorable matching scrungie pictured below. NEED. THIS. ASAP.
Apparently, Gomez intended on wearing this one out to ice skate, but she said her plans "didn't work out." Miracles happen in mysterious ways...
The offerings are only one of many good deeds Gomez has performed lately. In an upcoming story for Elle magazine, the "Wolves" singer announced that she picked up an unpaid internship with A21, a global anti–human-trafficking nonprofit in Southern California, whose goal is to "abolish slavery everywhere, forever.".
"I wasn't going to immediately start discussing it. It's out of my comfort zone. I needed to be fully immersed in it," Gomez explained to Elle in her October cover story. She said she knows people are thinking, "'What a great thing another celebrity is doing...'" But she explained, "That's not why I want to talk about it. I can't be silent about this."
After a busy few months — including her highly-publicized split from The Weeknd, her on again, off-again relationship with Justin Bieber (which is now totally off thanks to Bieber's recent engagement to Hailey Baldwin), and various work commitments — Gomez turned to more serious fieldwork after having a heart-to-heart with her family. She realized,
I had been working for so long, and I don't like taking things in my life. I just wanted to serve. The idea of human trafficking to me is…I'm flabbergasted.
Indeed, some of us are truly flabbergasted, too, because this charitable streak of hers is really impressive. If you didn't already adore Gomez, you can surely add these new updates to the reasons why you should.