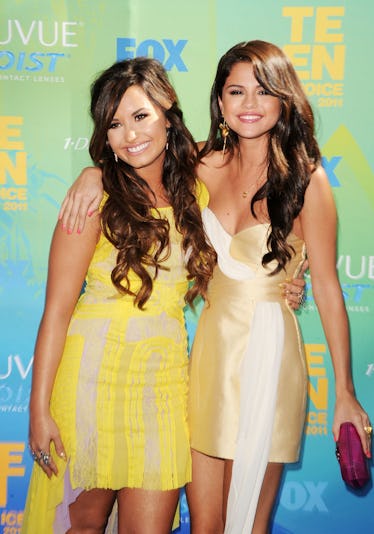 Selena Gomez & Demi Lovato's Social Media Interactions Though The Years Say A Lot
Jason Merritt/TERM/Getty Images Entertainment/Getty Images
Celebrity relationships and friendships are a rare breed. These famous faces have their lives played out in front of the masses, whether it's the good, the bad, or the straight-up shady. In Elite Daily's new series, It's Complicated, we're highlighting the biggest celebrity "feuds" that took over Hollywood and dominated our Sunday brunches for weeks on end. We'll take a deep dive into the lives and social media feeds of our favorite stars and dissect what happened in front of the camera, what went down behind the scenes, and everything you might have missed in between.
Demi Lovato and Selena Gomez first met way back in 2002, when they were just a couple of 7-year-old girls starring on Barney & Friends. Sure, the two Disney alums have had their fair share of ups and downs over the years, but they've always been there to support each other's projects and never fail to show up when the chips are down - whether it be on Twitter or IRL. Delena's friendship is one for the ages, so let's take a look at all of Selena Gomez and Demi Lovato's social media interactions through the years.
January 2008: The First Vlog
The duo, who both starred on the Disney Channel at the time, greeted fans and introduced themselves as the "best friends in the entire world." Then they revealed they were about to jet off to Puerto Rico to film a Disney Channel original movie together, which we now know was Princess Protection Program. These vids were never deleted from Lovato's YouTube channel, so you can watch their raw innocence whenever you want.
April 2013: Sharing The Twitter Love
From 2010 to 2012, fans speculated Lovato and Gomez grew apart as Gomez became closer to Taylor Swift (you can't forget "Ask Taylor"-gate). But it looked like it was all love again in April 2013, when the two stars supported each other after Lovato returned from a stay at a sober-living facility.
Lovato had just dropped "Heart Attack," while Gomez gifted us all with "Come and Get It." According to E! Online, in a since-deleted tweet, Lovato gave the following compliment to Gomez:
"Umm... obsessed with "Come & Get It" – @selenagomez. So happy for you lady. #LiterallyOnRepeat!!"
Gomez responded with a screenshot on Twitter listening to "Heart Attack."
November 2013: Always & Forever
Later that same year, Gomez shared a mirror selfie of herself and Lovato on Instagram. "It's just the evidence of forever," she wrote in the caption. "No matter what @ddlovato."
July 2014: Lovato Unfollows Gomez
Considering their November 2013 love-fest, Delena fans were caught off guard when Lovato unfollowed Gomez on Twitter and Instagram just 8 months later. According to Lovato's followers, the singer also tweeted and deleted a meme of herself swimming along with the caption, "Swimming away from your bullsh*t. Bye b*tch."
In August, Lovato broke her silence about unfollowing her former BFF during an appearance on Watch What Happens Live. "I think it's just one of those things where people change and people grow apart," she explained.
August 2015: Lovato Re-follows Gomez
Just one year later, however, Lovato re-followed her childhood best friend.
September 2015: Same Old Love
The pair took an adorable selfie in 2015, which Lovato shared on Twitter. Their fans were beyond excited since it was the pair's first real interaction since their Nov. 2013 mirror selfie.
"Look at how #coolforthesummer we are... Friends for years, #sameoldlove."
July 2017: Queens Support Queens
The supportive streak continued into the summer, when the stars hyped up each other's music on social media.
"Loving your new song Fetish," Lovato tweeted to Gomez. "We've come a long way since our Barney days."
"Yes we have," Gomez responded. "Just listening to Sorry Not Sorry! You slay as always. So happy for you!"
October 2017: Insta Love
Three months later, Gomez reached out on Instagram after Lovato released her YouTube documentary, Simply Complicated, which featured powerful confessions about Lovato's career, her sexuality, her experience with mental illness, and her substance use disorder.
"This was beautiful," Gomez wrote. "I'm so happy for you. You always continue to be bold and real. I wish more people were like you. Love you."
"Thank you so much," Lovato responded. "This means the world to me and more. Love you too."
November 2018: Demi Unfollows Selena Again
A few months after Lovato's drug overdose in July 2018, she unfollowed several of her celeb friends on Instagram, including Gomez. A source close to the singer told ET it was because Lovato needed to focus on her goals. Lovato's team did not previously respond to Elite Daily's request for confirmation on ET's report.
So where does Delena stand today? A quick check on Instagram reveals that the popstars aren't currently following each other. But Gomez told Elle back in Sept. 2018 that she did contact Lovato following her overdose.
"All I'm saying is, I reached out personally," she explained to the publication. "I didn't do a public thing. I didn't want to. I love her. I've known her since I was seven."
Their friendship has been quite a rollercoaster ride, but no matter what type of drama goes down on social media, Gomez and Lovato's relationship runs deeper than an Instagram follow.