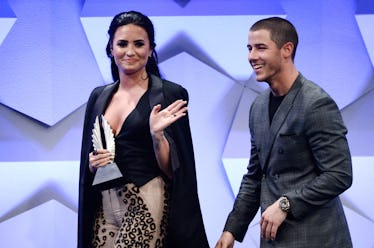 Demi Lovato Unfollowed Selena Gomez & Nick Jonas On Instagram & I'm Shook
Frazer Harrison/Getty Images Entertainment/Getty Images
In a move sending shockwaves through the celebverse, Demi Lovato unfollowed Selena Gomez and Nick Jonas on Instagram, continuing on with her 2018 celebrity unfollow spree that involves more than just these former Disney Channel stars.
Though Lovato has yet to comment on what inspired her to unfollow Gomez, a childhood friend, and Jonas, her co-star in the Disney Channel original Camp Rock, a source close to the celebrity told Cosmopolitan that Demi is cleaning house on Instagram so she can focus on herself. The source said:
She needs to surround herself with those that support her goals and to stay away from any negativity. Demi has come a very long way. She's grown emotionally and matured a great deal through this process. She realizes there is no quick fix and has accepted the fact she needs to take this one day at a time. She still has a sober companion and she has built a very strong support group.
ET notes that Demi also unfollowed another close friend, rapper Iggy Azalea. The two were so close it was rumored that Lovato was slated to be a bridesmaid for Azalea's since-canceled wedding to Nick Young. Neither Gomez or Azalea follow Lovato back, but soon-to-be-married Jonas still does.
Lovato isn't the only one changing her relationship with social media. In September, Gomez announced that she was taking an Instagram hiatus, writing: "taking a social media break. Again. As much as I am grateful for the voice that social media gives each of us, I am equally grateful to be able to step back and live my life present to the moment I have been given."
Lovato's unfollow spree is coming on the heels of a tumultuous summer. In July, Lovato was rushed to the hospital after an alleged overdose and entered rehab soon after being discharged from Cedars-Sinai in Los Angeles. Elite Daily previously reached out to Lovato's team but did not hear back. Though she reportedly left rehab at the beginning of November, Demi noted back in June that her lifelong struggles with body image and addiction won't just "disappear." In a now-deleted Instagram post, Lovato wrote:
I have always been transparent about my journey with addiction. What I've learned is that this illness is not something that disappears or fades with time. It is something I must continue to overcome and have not done yet.
In addition to focusing on her recovery, health, and goals, there are some speculations as to why Lovato chose to unfollow three people she was previously very close with. HelloGiggles notes that Gomez, Jonas, and Azalea all commented on Lovato's overdose when she was hospitalized this summer. Jonas tweeted that Lovato is a "fighter," Azalea told People that she was sure Lovato would turn the overdose into "something positive," and Gomez mentioned in an interview with Elle that she loves her friend and had privately reached out.
Earlier this month when a fan posted an opinion about Demi firing her jiu-jitsu instructor, Danielle Martin, Demi snapped back with a set of comments saying: "you have no idea what you're talking about" and then "true friends don't do interviews about you when you OD."
While nobody can be sure about the reason Lovato chose to unfollow her friends, fans are supporting her regardless.