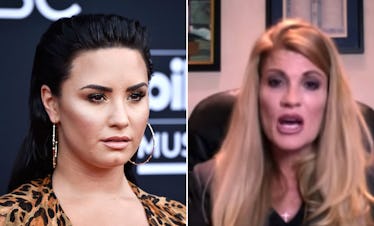 Demi Lovato's Mom Opened Up About Her Overdose To Send A Message About The Opioid Crisis
Frazer Harrison/Getty Images Entertainment/Getty Images & YouTube
It has been nearly two months since Demi Lovato reportedly overdosed on opioids in her home in Hollywood Hills, California. After reportedly being hospitalized for two weeks, Lovato reportedly sought continued care at a live-in rehab facility and traveled with her mother, Dianna De La Garza, to Chicago, where she met with a psychiatrist who specializes in mental health and sobriety. Now, her mother is breaking her silence. Demi Lovato's mom's statement about her overdose is understandably emotional and also makes a big statement on the nation's opioid crisis. When Elite Daily initially reached out for comment on Lovato's overdose, a representative responded with this email message:
Demi is awake and with her family who want to express thanks to everyone for the love, prayers and support. Some of the information being reported is incorrect and they respectfully ask for privacy and not speculation as her health and recovery is the most important thing right now.
On Wednesday, Sept. 19, De La Garza participated in an interview with Newsmax TV, reportedly with Demi's blessing. She spoke with America Talks Live about how she first learned the news of her daughter's reported overdose and what the immediate hours and days were like after that. Initially, De La Garza describes receiving text after text from people saying they saw the news and were praying for her and her family. "I was in shock," she said. "I thought, 'What is going on?'"
De La Garza says she learned TMZ was the first to break the story, and as she was rushing to look up the information online, Demi's assistant, Kelsey called. "She was rambling, like she had obviously been through something terrible," De La Garza described. "She said, 'Demi overdosed.' So, I was in shock."
De La Garza continued,
I didn't know what to say. It was just something that I never, ever expected to hear, as a parent, about any of my kids. I hesitated to ask, but I had to ask her... I said, 'Is she Ok?' And, she stopped for a second, and she said, 'She's conscious, but she's not talking.' And I knew at that point we were in trouble.
Upon her arrival at the hospital, De La Garza says Demi "was in bad shape." She added, "I said to her, 'Demi, I'm here. I love you.' And at that point she said back to me, 'I love you, too.' From that point on, I never allowed myself to ever think that things weren't going to be okay."
Lovato was reportedly hospitalized for two full weeks. As for her current condition nearing the end of September 2018, De La Garza says, "She's happy. She's healthy. She's working on her sobriety, and she's getting the help she needs."
De La Garza credits the "millions of prayers that went up that day," along with the doctor's care, for her daughter's recovery. As for Lovato's addiction, De La Garza explains the opioid crisis has much longer and deeper reaching roots than most realize. She said,
The opioid crisis in America is at an epidemic level, and people don't understand that until they start researching it… After this happened, I started researching and looking into how opioids are killing our kids. And it's happening. I think it's every 15 minutes someone dies of an overdose. It's not just the kids, either—it's grown-ups. It's mothers. It's fathers.
Fortunately, fans are relieved to hear Demi is doing better. On Aug. 5, 2018, she shared this message on Instagram:
If you or someone you know needs help with substance abuse issues, you can reach out to the Substance Abuse and Mental Health Services Administration (SAMHSA) National Helpline at 1-800-662-HELP (4357).