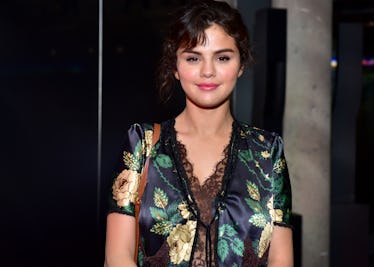 Selena Gomez's Fourth Of July Celebration Was A Cute AF 'Wizards Of Waverly Place' Reunion
Sean Zanni/Getty Images Entertainment/Getty Images
A typical Fourth of July celebration usually includes some tasty barbecued bites, fun with your besties, and wearing a whole lot of red, white, and blue. Luckily for Disney fanatics, Selena Gomez's Independence Day plans included a mini reunion at Disneyland with one of her former Disney Channel costars. For die-hard fans, Selena Gomez and David Henrie's Wizards of Waverly Place reunion is way more exciting than any Fourth of July fireworks could ever be.
To really perfect this whole "Disney reunion" thing, the pair met up at — you guessed it — Disneyland in Anaheim, California, on Wednesday, July 4, according to Entertainment Tonight. Gomez posted the photo evidence on Instagram of her and her television brother, Henrie, hanging out at the happiest place on Earth. She shared two photos of her and her former costar chilling on a set of stairs and eating popcorn (as you do), and she captioned the first one, "Family vacation vibes." The second picture captures that brother-sister bond, so she appropriately captioned it, "Brudder & sissy." It's basically like the Russo family never left your television screen.
All in all, it was adorable AF and what every Wizards fan wants, since the show aired its series finale over five years ago. Gomez even rocked a sweet double-bun hairstyle that totally gave a little-sis vibe à la Alex Russo (Gomez's character on Wizards of Waverly Place).
They're also sharing the box of popcorn between them like the considerate, former television-wizard family they are. Henrie played Justin Russo, Alex's older brother, on the show.
If you think two snapshots aren't enough to fill the Wizards of Waverly Place void in your life, then you'll be happy to know the fun didn't stop at a couple of photos. Gomez shared another post on her Instagram Wednesday night that included multiple snaps from her Fourth of July spent at the theme park, and the cover photo is of her and Henrie smiling on the staircase. Gomez shared in her caption:
Hope everyone had a great 4th of July! Spent mine with some of my favorite people @disney ❤️
OK, I don't think my Disney-loving heart can handle these adorable reunion photos and Gomez including Henrie as "...some of my favorite people." Wizards' bonds run deep, y'all.
Even though it's been quite awhile since Wizards of Waverly Place has gone off the air, it seems like the cast does their best to stay in touch with each other. The cast came together to attend Henrie's April 2017 wedding, and the reunion photos were amazing, of course.
While I am always here for any and all Disney Channel reunions, the April 2017 get-together was truly one to remember. The entire Russo crew showed up for Henrie's big day.
Gomez and Henrie's recent Fourth of July hangout doesn't seem to be out of the ordinary. Per US Weekly, the pair often finds time to see each other, and Henrie was even part of Gomez's first Instagram story in January 2017. In the video, the two joked around about how Henrie reportedly introduced Gomez to Twitter and set up her account for her. In even more exciting news, they discussed a Wizards of Waverly Place reunion, as Gomez said to Henrie, "David, I think we should do a reunion." They both joked about what their characters might be doing in the present day, and Henrie posted an Instagram about it the next day. He wrote:
We had the best time last night. We dreamed up what our wizards characters are doing present day lol, and talked about the fact that I started all of @selenagomez social media platforms ;)
OK, this was over a year and a half ago now, so I really hope these Fourth of July photos aren't the only "reunion" that Wizards will get to see. I guess you'll just have to channel-surf for reruns, and keep your fingers crossed for the full-on Wizards of Waverly Place reunion you've been waiting for.