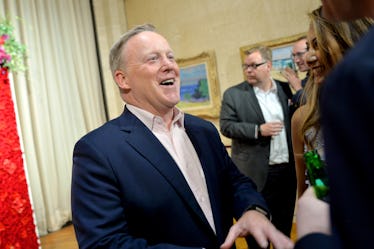 Sean Spicer Might Have A Talk Show Soon, Because Reality TV Isn't Just For Trump
Shannon Finney/Getty Images Entertainment/Getty Images
Even though former White House Press Secretary Sean Spicer has been out of the job for a while doesn't mean that he's leaving the spotlight just yet. According to a new report, Sean Spicer has a talk show in the works. Yes, you read that right — Spicey might have his own talk show. Just when I thought 2018 couldn't get any weirder, it always does.
The New York Times obtained a pilot pitch sheet on June 25 from what is supposed to be a new talk show, hosted by Spicer, titled "Sean Spicer's Common Ground." The pitch sheet states that the former White House spokesman will host "some of the most interesting and thoughtful public figures for a drink and some lite conversation at a local pub or cafe," per the Times.
"The relaxed atmosphere is an ideal setting for Sean to get to know his guests as they discuss everything from the media to marriage," reads the pitch. "They might even tangle over the merits of making your bed or the value of a great point guard." The Times reports that no network is attached to this project right now, but that a pilot episode is set to be taped anyway this coming July.
Honestly, I'm not in the least bit surprised to learn about Spicer's proposed new show. If you think about it, he's kind of conditioned the world to expect him to make a return to mass media — case-in-point, the 2017 Emmy Awards in September. Spicer made a surprise cameo during host Stephen Colbert's monologue on September 17, and the public's reaction to his appearance received mixed reviews. Even though it was kind of funny, some people thought it was too soon to "normalize" Spicer after he resigned from his position at the White House in July 2017.
That Emmys appearance may have been a precursory move on Spicer's part in an effort to re-introduce himself into the public eye, as well as introduce himself to the Hollywood crowd. That's just my own personal speculation, but the move (if true) definitely makes sense. Spicer confirmed the possible new show in a statement he made to the Times. "In this current environment, I think it's important to have a platform where we can have civil, respectful, and informative discussions on the issues of the day," Spicer said to the newspaper on June 25.
The Times also reported that one of the proposed guests for Spicer's show could be Michael Avenatti, adult film star Stormy Daniels' legal counsel. Avenatti is currently in a courtroom battle against President Donald Trump, over the president's alleged affair with Daniels (Trump has repeatedly denied allegations of an affair). Avenatti responded to the report via Twitter on June 25, where he claimed that he turned down the offer to join Spicer on his proposed show and expertly mocked him over his infamous boasting that Trump's inauguration crowd was the "largest audience ever." Avenatti wrote in the tweet,
I turned down Sean Spicer for his new show despite the fact that it would have been YUGE with the biggest ratings since the Apprentice and the largest live audience since the 2017 Inauguration (which was the largest ever on record)!!!!!!!!!
This new show isn't the only venture that Spicer has in the works. His book about his six-month tenure at the White House, titled "The Briefing: Politics, The Press, and The President," is set to come out on July 24, per the Times. A documentary film crew is also expected to follow Spicer around during his extensive book tour this summer, presumably to create a film of some sort.
I don't know how openly Hollywood and the rest of the world will welcome Spicer. A book release is one thing, but after everything, I'm not sure people are ready to welcome Spicey himself back into their living rooms just yet.