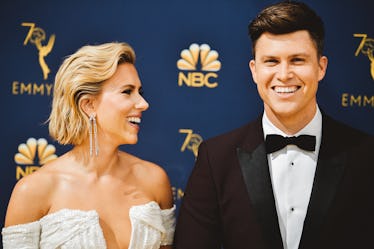 Scarlett Johansson & Colin Jost's Body Language Is The Cutest
Matt Winkelmeyer/Getty Images Entertainment/Getty Images
It's no secret that Scarlett Johansson and Colin Jost are adorable. The pair officially made their public debut as a couple in November 2017, according to PEOPLE, and have basically been inseparable ever since. In May 2019, Johansson's publicist confirmed that the two were happily engaged, and honestly, they've only gotten sweeter ever since. It doesn't take an expert to see that Scarlett Johansson and Colin Jost's body language shows nothing but true love, but don't take my word for it. I reached out to actual body language experts for their insight on what we can infer from their physical dynamic.
Even before the two got engaged, a source reportedly told PEOPLE that they both had marriage on the brain, and the pictures below make it clear that he's the main object of her affection. "Scarlett and Colin are in love and share many of the same interests and the same sense of humor," the source said. "Scarlett is very happy. There is marriage talk with Colin." Eep!
Before these two tie the knot, I asked two body language experts to look at their interactions before their official engagement announcement, to see what it says about their romance. Are they really as in love as they look? Could we have seen this engagement coming from a mile away. The answer isn't that surprising.