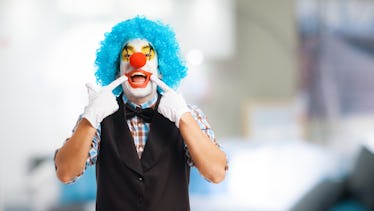 8 Things People Who Are Terrified Of Clowns Dodge Immediately
The technical term for a fear of clowns is "coulrophobia," but for anyone who finds the presence of these creepy-faced, large-footed, pieces of hell on earth, it's so much more than just one word. There's nothing entertaining about clowns. In fact, there are things people who are scared of clowns avoid, because even one not-so-subtle red nose triggers a replay of the worst nightmares ever.
Yes, it's that serious. There are so many disturbing details about clowns that people overlook, because they've booked them at a discounted rate for a kid's birthday party. Money may be the root of all evil, but clowns are a close second.
Most people have nightmares of falling or being chased, but for me, I am usually hyperventilating because Clappy the Clown and his friends are consecutively trying to eat my face and make me a balloon animal. It's twisted, but that's just how it is when you're accepting of all avenues of life except clown-hood. This isn't an exaggeration, which is why it is imperative that I, and other people who fear clowns, swerve anything associated with them. It's not the easiest task in the world, but if it means no fear flare-up, we aren't playing around with a few of these things.