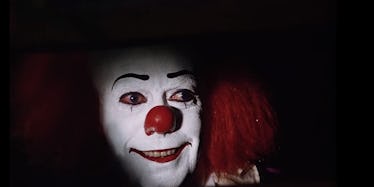 7 Scary Clowns In Movies That Will Haunt Our Nightmares, No Matter How Old We Are
Youtube
Clowns have a special place in our fears, nightmares, and extreme phobias. If you never had a clown at your birthday party and flinch at the thought of a red nose, chances are, you fell victim to one of those movies where a clown tormented the characters and our livelihood. Scary clowns in movies were a surefire way to scare the living crap out of children who unassumingly thought clowns were only here to make you laugh and create balloon animals.
Way to go, movies, for taking that little ray of sunshine from us and planting an undying fear of clowns. I mean, think about it -- they usually have crazy hair, freaky weird voices that sound like they swallowed a balloon, and massive shoes. Who the heck thought this get up was inviting for kids, anyway? Regardless, the clown identity literally baited creative minds like Stephen King, and it was all downhill for us viewers from that point on.
With the advancement of graphics, the characteristics of these face-painted nightmares just get creepier and creepier. And we have no choice but to sit idly by and stare at their goofy smiles and hope not to freak out. So, if your nightmares throughout your childhood and in the present time still revolve around the freakish nature of clowns, chances are, it was one of these cinematic creeps that did the trick.