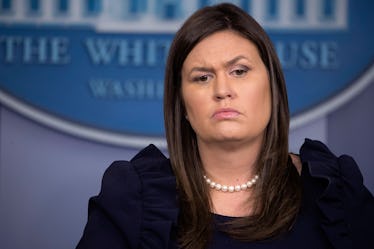 Sarah Sanders Doesn't Like Everyone's Obsession With The "Resistance" Op-Ed Author
Chip Somodevilla/Getty Images News/Getty Images
I don't know about y'all, but I'm absolutely living for this New York Times op-ed drama. All my life I've been waiting to feel like I'm a part of a Scandal episode, and finally the time has arrived. Even though I may be completely invested in this drama, Sarah Huckabee Sanders' tweet about the NYT op-ed author shows she's totally over the whole ordeal.
On Thursday, Sept. 6, just a day after The New York Times published their already-infamous resistance op-ed piece, White House Press Secretary Sarah Huckabee Sanders took to Twitter to shut down all the speculation about the author. In the statement, she not only refers to the writer as a "coward" and "gutless loser," but at the end she affirms her loyalty to Donald Trump. She wrote,
The media's wild obsession with the identity of the anonymous coward is recklessly tarnishing the reputation of thousands of great Americans who proudly serve our country and work for President Trump. Stop. If you want to know who this gutless loser is, call the opinion desk of the failing NYT at 212-556-1234, and ask them. They are the only ones complicit in this deceitful act. We stand united together and fully support our President Donald J. Trump.
While Sanders might have tweeted the NYT phone number just to get those pesky inquiries off her back, it might cause more problems than she expected. Following her tweet, CNN analyst Norm Eisen took to Twitter to suggests that a government official urging the public to harass a media publication is a violation of federal ethics rules which prohibit government officials from benefiting from their public position, including "coercing" others into acting for their benefit. So, since Sanders basically told the public to keep calling and harassing the Times, she could be guilty of that violation.
Elite Daily reached out to the White House for comment about whether Sanders' tweet could be an ethics violation, but did not receive an answer in time for publication.
For those who are just tuning into the political spectacle, here's a quick rundown. On Wednesday, Sept. 5, The New York Times published an op-ed piece reportedly authored by a White House "senior official." In the article, the anonymous author reveals that they have apparently attempted to prevent Trump's White House agenda from succeeding. Naturally, the article sparked discussion among social media and news publications alike, and theories have started popping up about who exactly the op-ed's mystery author could be. At the moment, the two most popular guesses are Secretary of State Mike Pompeo and Vice President Mike Pence. However, both parties have openly denied claims that they're the ones who penned the piece.
On Sept. 6, Pompeo spoke to reporters during a trip in New Delhi, India, about the op-ed piece, and claimed he's not the one who wrote it. He said,
It's not mine. If it's accurate they should not well have chosen to take a disgruntled, deceptive, bad actor's word for anything and put it in their newspaper. It's sad more than anything else. I come from a place where if you're not in a position to execute the commander's intent, you have a singular option — that is to leave. And this person instead, according to the New York Times, chose not only to stay but to undermine what President Trump and this administration are trying to do.
In addition to Pompeo's denial, Pence's spokesperson Jarrod Agen took to Twitter the same day to dispute rumors that Pence wrote the NYT article. In the tweet, Agen claims that the vice president "puts his name on op-eds" and referred to the article as "gutless." Ouch.
As the press secretary, I have no doubt that Sanders is probably up to her ears in diffusing this chaotic situation. So, I can't blame her for trying to put a pin in this political mystery that's taken over the internet.
Hate to break it to her, but I have a feeling this ordeal won't calm down anytime soon.