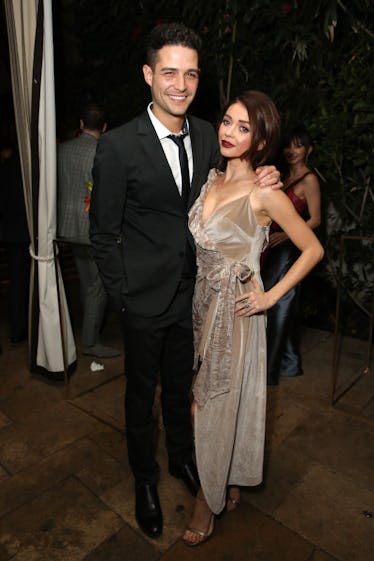 The Story Behind Sarah Hyland's Birthday Insta For Wells Adams Is Ridiculously Cute
Rachel Murray/Getty Images Entertainment/Getty Images
Spring has sprung and love is in the air, people! And I'm not just talking about the royal wedding. Or Lea Michele's engagement. OR Taraji P. Henson's engagement. OR Cole Sprouse and Lili Reinhart finally making their relationship official. All of that news is obviously wonderful but today I'm focusing on everyone's favorite Modern Family star and her beau. You see, Sarah Hyland's birthday message for Wells Adams is guaranteed to make your heart burst right out of your chest.
For those of you who haven't been keeping up with Hyland's love life, let me give you some backstory. The pair, who have been officially together for a few months now, can credit their romance to Instagram. While making an appearance on Jimmy Kimmel Live! this past January, Hyland explained how they met in pretty much the most millennial way ever:
He slid into my DMs... I was following him [on Twitter], we had tweeted each other, and I thought he was funny and he was a fan of the show [Modern Family] ... so I just thought, I saw him as the bartender [on Bachelor in Paradise], and I was like, 'That's really cute,' and I was single, obviously, and I was like, this is really awesome.
While they were DM-ing, Adams suggested that he would take Hyland out for tacos and drinks next time she was in LA. She was impressed, to say the least. "I love tacos. He loves tacos, so that was like his thing, like 'I love tacos, let's see if she likes tacos'... we both like tacos!" I mean... what could possibly be better than a love based on a shared adoration of one of the best foods the world has to offer?
I guess, sliding into your celebrity crush's DM's really can work out sometimes.
After the taco date, the two have made headlines as one of Hollywood's cutest new couples and they haven't been shy about showing just how much they mean to each other on social media.
Back in November, Adams posted a picture of himself and Hyland in front of a helicopter in honor of her birthday along with a caption that read:
Top 5 ways helicopters are like Sarah: 1. They make you feel like you're floating. 2. Every moment with them is an adventure. 3. They make you feel like you're falling, in the best way. 4. They defy gravity. 5. They are really f*cking cool
So... yeah, you could say he's pretty into her. But don't you worry, the feeling is totally mutual.
Yesterday was Adams' birthday which meant it was time for Hyland, 27, to return the favor with the obligatory sappy birthday post and, oh man, did she deliver. In honor of her BAE's 34th birthday, the actress shared a picture of the two of them cuddling in bed, which she revealed was taken not long after they exchanged their first "I love you." She wrote:
This picture was taken three days after three words were exchanged. My smile has only grown, my heart has only deepened, and my world has only gotten better ever since. @wellsadams? You are the most phenomenal man I have ever met and I am the luckiest woman in the world to have you by my side. Thank you for calling me baby even when I'm acting crazy. Happy Birthday Llama! Hey... #toplutoandback#myperson
UGH, SO CUTE.
Congrats to the happy couple and here's to hoping we're all lucky enough to find a love like theirs!
Check out the "Best of Elite Daily" stream in the Bustle App for more stories just like this!