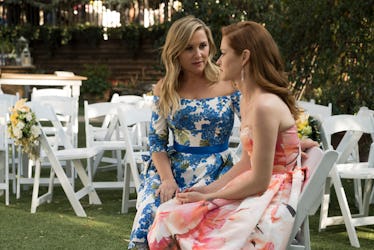 Sarah Drew & Jessica Capshaw's Goodbye To 'Grey's Anatomy' Will Make You Sob
ABC/Eric McCandless
Well, it finally happened, Grey's Anatomy fans. After months of agonizing over how April Kepner and Arizona Robbins will leave the show, fans finally saw their last moment together, and it was totally sweet and beautiful and everything I could have wished for these characters. I didn't even cry during the Season 14 finale, so I managed to save my box of Thursday night tissues. But now, it looks like I'll need them, because Sarah Drew and Jessica Capshaw's goodbye to Grey's Anatomy just left me sobbing. Come on, guys, I was just starting to feel OK!
Both Drew and Capshaw have been with Grey's Anatomy for almost a decade, so I knew that their goodbyes would be painful, but I didn't know exactly how much their departure would gut me. After the finale aired on Thursday, May 17, the actresses took to Instagram and posted a slew of behind-the-scenes photos, heartfelt tributes, and fan-made collages thanking Grey's Anatomy for changing their lives. Drew posted a picture with practically each individual member of the cast and added a personalized message for each. Capshaw posted a few group shots, as well, writing "Love is all around" on one of the sweet pics. Clearly, leaving Grey's was no easy task for these amazing actresses.
As if I wasn't already crying enough, the entire Grey's Anatomy cast and crew got together to give the actresses the best going-away present in the history of gift-giving. Drew posted a sweet pic on Instagram of Jesse Williams, her on-screen ex-husband (more on that later), giving her a huge box filled with pictures and letters written by the show's crew.
"This moment was extraordinary. After our final scene, our beautiful crew gathered around me and Jessica and presented us with gorgeous boxes full of pictures and letters from everyone," she wrote. "It was so heavy and I didn't know how to open it and look through it while holding it, so Jesse came up and opened it for me ... Jessica and I got to share with our crew how much they've meant to us. It was so sweet."
So, how did Arizona and April leave Grey's Anatomy? Both characters go a happy ending — even if it's not the ending that some fans wanted (cough, April, cough). Arizona will be heading to New York City to give Sophia a chance to live with her other mom, Callie Torres, and it's possible that Arizona and Callie will rekindle their old romance. While we don't see their reunion on-screen, Arizona admits that Callie's texts have her smiling like it's Season 8 all over again, so it seems likely that these two will get back together one way or another.
Fans were a little less excited about April's fate. After surviving a near-death experience in the penultimate episode, April quit her job at the hospital and started doing medical work for local communities in need. She also began dating Matthew again — yup, the same Matthew that she left at the altar in Season 10 because she was in love with Jackson — and at the end of the Season 14 finale, the two married. Sure, April ended up alive, but many fans feel that April should've ended up with her one true love, Jackson. They even had that sweet moment together after Alex and Jo's failed (first) wedding!
Matthew is nice and all, but he's just plain ol' boring. April needs someone fun and exciting to balance her out, not someone who will just encourage her to be more lame. Plus, you just can't deny this chemistry.
I know I shouldn't be salty, because both April and Arizona lived, and that's a huge feat in the Grey's Anatomy universe. And who's to say that they won't be back in the future? Teddy has come and gone multiple times since she "left" the hospital for good after Season 8, and based on the finale, it seems like she'll be sticking around for at least the first part of Season 15. As long as you don't die (and even sometimes if you do), it's always possible that Shonda Rhimes will bring you back.
Keep your fingers crossed that this is simply a "goodbye for now" for April and Arizona.