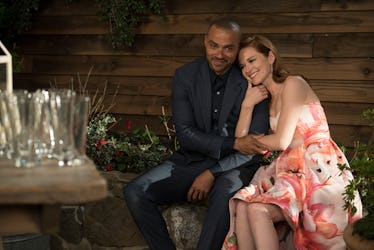 16 Tweets About April Leaving 'Grey's Anatomy' That Will Destroy You
ABC
It was a bombshell when the news dropped in March that Jessica Capshaw and Sarah Drew, two of the more popular characters on the long-running Grey's Anatomy franchise, would be leaving at the end of Season 14. It was even harder to take when Drew, who plays character Dr. April Kepner, admitted this was not her choice, but that she was "asked" to leave. Her character has been with the show for nine seasons, eight of them as a series regular. The tweets about April leaving Grey's Anatomy during the season finale show that fans were not ready to let go of her either.
It might seem hard to remember now, but when April first came aboard as a recurring character in Season 6, the entire point was for the cast and the audience to hate her. She was over-the-top innocent, virgin and utterly obnoxious to be around. But with Grey's in the midst of their first big turn over and April's character a hit, within a few episodes there were apologies for nasty behavior and general toning down of scripts and by Season 7, April was on track to slowly take over the running of the trauma center.
With Drew's exit known to all, last week's rescue from a terrible car accident and a near death experience had fans convinced this week would be a wedding and funeral all in one. But the show spared fans that, for now, leaving April awake and alert and ready to attend the finale wedding of Alex and Jo.
But this left April in a tough spot. Jackson clearly remembered why he loved her and even may have found faith in her recovery. Meanwhile, April has gone back to Matthew, a reveal that came over her comatose body. Now she's heading to a wedding where both will be guests and the emotional temptation to go either way.
And then there's Grey's Anatomy's habit of killing off characters in the middle of weddings. It's practically a tradition at this point. And if it's not Arizona who will be kicking the bucket, that leaves April as the prime victim tonight.
Some were just hoping for a miracle.
Others were heartbroken that no matter what happened they would be seeing the last of the character.
But some still couldn't shake the way April left the hospital in the first place.
At least Jackson tried to go up to Matthew and tried to apologize for the way it ended the first time... you know... when April jilted Matthew at the alter for Jackson.
Matthew said he'd prefer to punch him if that was OK.
Instead, he accepted that Jackson was having new issues and April wasn't involved.
But with a wedding this full of laughs, could April really kick the bucket? It seemed less and less likely, especially when the wedding planner was the one to eat shrimp, to which she is allergic.
So the Alex and Jo are eventually found, which means that Matthew and April wouldn't have a substitute wedding in place.
Instead of dying, or leaving in some spectacular fashion, April is saving the life of the wedding planner along with Owen in the middle of the aisle with things like a pinwheel. The wedding is a disaster. So how is she leaving?
Turns out, it's because Matthew proposes marriage.
And even better, the officiant shows up after everything is over, and since she's there and April and Mathew are too, she marries them.
Jackson doesn't even interrupt.
And with that April is gone from the show. But she lived to see another day. Perhaps the show will bring her back one day too.